Last Updated on November 21, 2019 by Shevy
*I earn a small commission if you purchase through any of my links at no extra cost to you*
J Crew Factory Sale
I'm going to get right into this post and list some of the best things from the J Crew factory sale. Most items are already marked down at ridiculously low prices  and you can also get an extra 60% off some items with the code HAPPYDAY. 
You may also be interested in: My Favorites From The Nordstrom Fall Sale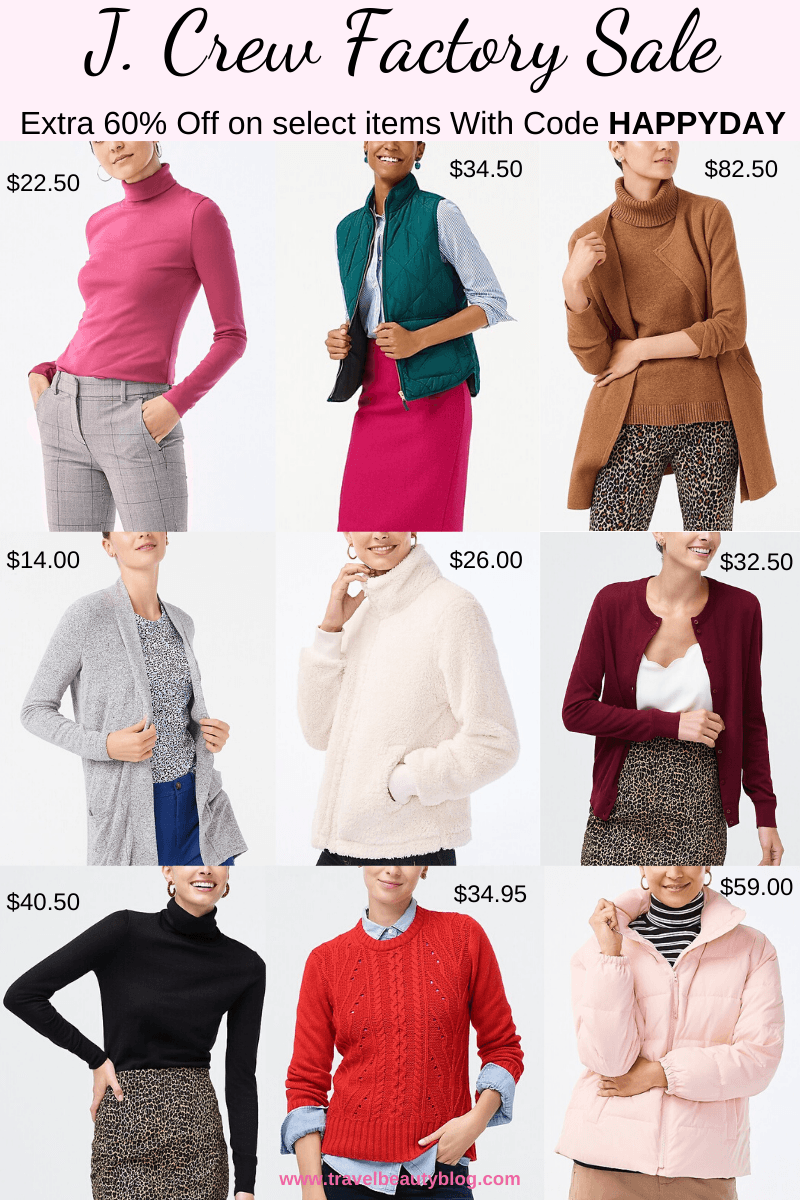 J Crew Factory Sale Roundup
This turtle neck sweater top comes in 8 solid colours and the sizes run XXX Small all the way up to 3X. There is no guarantee that your size may be available due to the speed in which items are selling out.
One of the most sought after puffer vest is this one right here and it comes in 4 colours. Sizes run XX Small to 3X and its marked down for under $35.
Although a little pricey at $82.50, the original price is marked at $118 so that's still a steal of a deal. Love this camel colour which is perfect for fall and the sizes run XX Small up to 3X.
An over-sized open-front cardigan with two front patch pockets marked down at $34.99. Get an additional 60% discount with the code HAPPYDAY which means it would only cost about $14. At the time of this post its only available in black and gray and the sizes also run XX Small to 3X.
A funnel neck sherpa jacket that is bound to keep you warm during the fall and summer months. It comes in white and a camel colour and the sizes are from XX Small to XL. After the discount it works out to a cost of only $26 (original price marked at $98).
Cardigans are a staple for fall and winter and also a great item to have in your work wardrobe. They are very easy to style and these are priced at $32.50 and comes in sizes XX Small to XXL.
Comes in 5 gorgeous colours, available in sizes XX Small to 3X and cost $40.50. Can be used for layering under your coats and jackets for added warmth or style.
Can't ever make it through the season without at least one cable knit sweater. It's a fall staple and must-have and this one comes in 6 colours, available in all sizes as well and costs $34.95.
Love this pink puffer jacket and it also comes in black, both priced at $59 and green, but at a cost of $84.99. Sizes range from XX Small to 2X.
That's it for my J Crew factory sale roundup. Which one of these items do you plan on getting for yourself? Be sure to follow me on the free LikeToKnow.It shopping app because I post deals in real time there.
Shop More Sales:
My Favorites From The Nordstrom Fall Sale
0