*I earn a small commission if you purchase through any of my links at no extra cost to you*
How To Start A Makeup Collection
Back when I started wearing makeup I had no idea how to start a makeup collection. Neither did I knew exactly what I was doing with regards to applying them. But, thanks to YouTube I was able to buy some products that were popularly used by the majority of beauty bloggers at the time. However, looking back now I realize I wasted a lot of money buying things that were unnecessary or was unable to put to full use. What about you? Are you clueless when it comes to this area and would love to learn more? If yes, then this post is for you so let's dive into the essentials.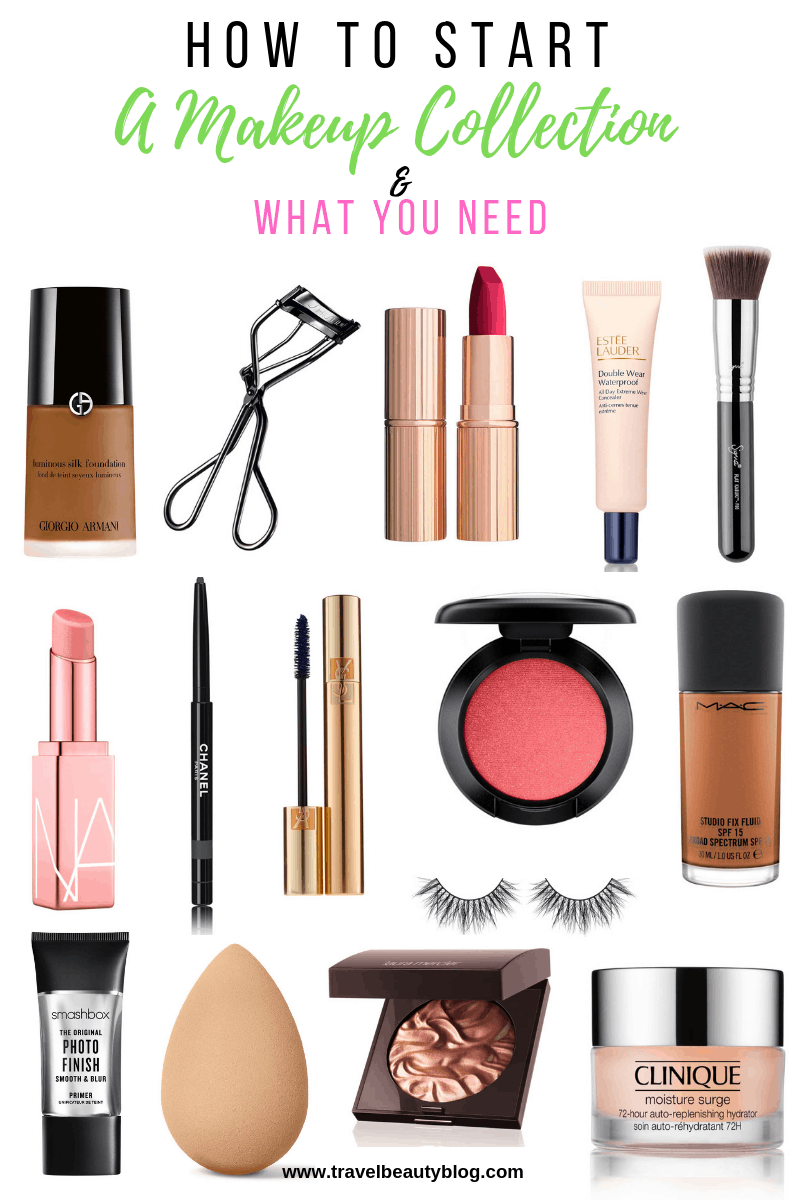 Giorgio Armani | Shiseido Lash Curler | Charlotte Tilbury Lipstick | Estee Lauder Concealer | Sigma Brush | Nars Lipbalm | Chanel Liner | YSL Mascara | MAC Eye Shadow | MAC Foundation | Lashes | Smashbox Primer | Beauty Blender | Laura Mercier Highlighter | Clinique Moisturizer
How To Start A Makeup Collection
Starting With Your Face
First, you would need something to protect your face from all the makeup that you will be wearing. By that, I mean a face moisturizer with an SPF and a makeup primer. Not only would they help your makeup apply smoothly, last longer without caking and give a flawless finish. But more importantly, safeguard your face from impurities getting into and clogging your pores. I wished someone had told me this from the start but I definitely learned from my mistakes. When it comes to moisturizers and primers, the options are endless and if you are now starting I suggest going with a budget-friendly one.
Related: 10 Things I Like About These CoverFX Products
Face Moisturizers & Primers
Although I was not privy to all the information that is available now, I started off with this L'oreal Futur-e Day lotion for normal to dry skin which worked well. CeraVe has an ultra-lightweight face moisturizer with Hyaluronic Acid for a little more. Another one I use until this day is the Hydra Total by L'oreal and Neutrogena also has some decent ones too.
Related: What I Absolutely Like About Nivea Face Moisturizer
Reasons To Love This Moisturizing Day Cream
Foundations & Powders: Liquid | Moose | Pressed | Loose
Regardless of the foundation type you choose, they all do the same job more or less, just the application and final result may differentiate a little. Pressed was my first choice and I used it independently for a long time. Years later I switched to Maybelline matte mousse foundation and shortly after that to MAC Cosmetics. Precisely, MAC studio fix pressed powder followed by their studio fix liquid foundation. Since then, that is all I use and I never went back to using powders by themselves. However, if I do use a powder, it's in a darker shade, strictly for contouring. Deciding on one of these options depends on the type of coverage you want: light, medium or full. Some products are build-able so you can get multiple uses out of them. Ask your beauty sales agent at a pro store to recommend products for your desired look.
Related: Some Of The Best Tested Foundations For Black Women
Proper Tools: Sponges & Brushes
You need proper tools to apply your makeup and each one has their advantages and disadvantages which I am not getting into, in this post. Different tools give you a different application so it comes down to personal preferences. Some people prefer beauty sponges while others like to use brushes. My suggestion is to experiment with all and decide which one suits you best.
Concealers, Highlights, Contours & Blush
Concealers to cover up any dark circles or areas on your face you want to cover-up, which would normally be a few shades lighter than your complexion. Also, use for defining your brows or as an eye-shadow primer as well. Highlighters for adding a glow of course and contours for narrowing areas you want to make appear smaller. Blushes for completing the face, giving it a nice, soft touch.
Eye & Lip Pencils, Gel/liquid Liners & Mascara
Eye & lip pencils for lining the eyes, lips and for outlining and filling in your brows. Gel/liquid liner for lining the eyes if you prefer not to use a pencil. Mascara for giving your lashes a nice elongated, full and flattering look.
Lip gloss & Lipsticks
To finish off your face you are going to need a lip gloss or lipstick or both. Whether it is liquid, matte or sheer, that is up to you. Some days you may wish to wear one over the other or you may use them simultaneously. For instance, wearing lip gloss over a matte lipstick.
Eye Shadows & Primer
Having 1 or 2 palettes that have the majority of colours is essential so that you can achieve many looks from them. One preferably with natural and earthy tones and another with vibrant colours. They can be a mixture of matte and metallic so that there will be a good balance of the two. I always recommend using an eye shadow primer when applying eyeshadows in order to make them pop and prevent fallout.
Related: The Best Remedies For Clear Skin
Cleansers
A lot of people forget this important part but its crucial that you purchase at least one exfoliating cleanser for daily use.
Optional items to have:
These are other items you may wish to invest in but is not necessary when now starting a collection.
Makeup remover / Remover wipes
Setting powder / Translucent powder / Finishing power (these are all the same with different names)
After you have finished building your collection you can buy more of each item as desired. Good luck with starting your collection and hope you've enjoyed this post!
1