Last Updated on
*I earn a small commission if you purchase through any of my links at no extra cost to you*
Weekly Roundup
Happy Saturday guys. It's that time again for another roundup of the most wanted things under $50. Did you have a chance to check out last week's post? If not you can go ahead and catch up right here because I recommended some pieces that are also perfect for Spring. Such as this Gucci dupe belt that everyone seems to love the most. I started this roundup series not only to highlight products that I love. But also to show you how easily you can score great deals on quality products without the high price tag.


Scoring Deals
In order to do find these deals, it may require some research and having a little patience. But the best part is that instead of you having to do it, I am doing it for you. Before I get into this week's list, I simply want to say thank you to those of you who continue to support my blog. It may not mean anything to you when you click on those links and shop but it sure means a lot to me. Now let's get on with my most coveted items under $50.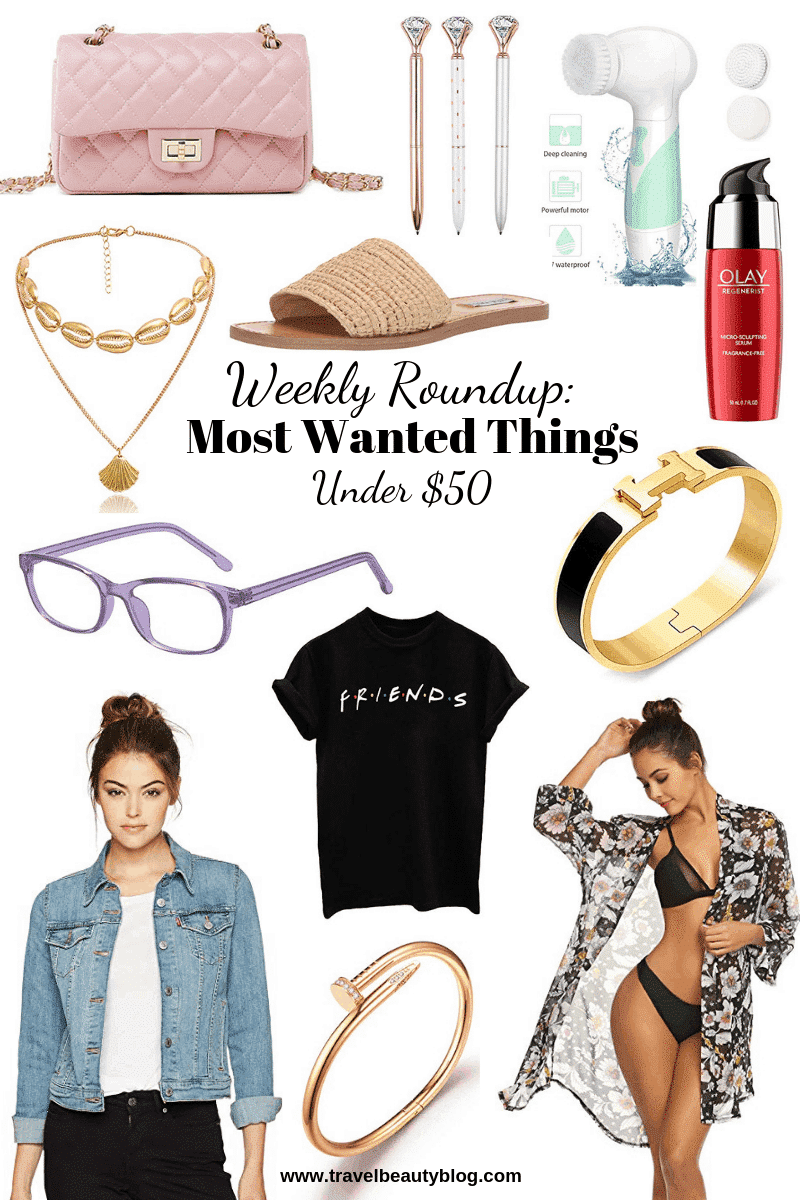 Roundup Of The Most Wanted Things Under $50:
Clothing
Floral Print Chiffon Blouse to hide my insecurities (lol just kidding) but a must-have as a swimsuit coverup. It can also be used as a Kimono to layer over your regular clothes. This one here I am in love with it and is like a gown and is great for a beach house vacation. Especially if you want to take pictures for your Instagram as you will surely turn a few heads wearing it.
A Levi's denim jacket because its layering season and one could never have too many jackets. Even if you are not a 80's child that grew up watching the sitcom Friends, this t-shirt is perfect for the summer months.
Shoes & Accessories
The perfect Chanel dupe bag is this pink quilted faux leather chain shoulder bag that can also be used as a crossbody bag. Steve Madden Tide Sandal in the natural colour, a bit pricey but still a great buy. I've noticed an emerging trend with woven straw-like bags and shoes that may very well be popular in the summer.
Blue light blocking non-prescription glasses is a thing now and I find them practical because I spend a lot of time on computers. Three pieces rose gold pen set that I have had eyes on for a long time would add some elegance to my office space. Discover more erose gold inspiration for your home here.


Jewelry
A classic nail bangle bracelet in rose gold titanium steel (also comes in silver) inspired by Cartier. Most people do not wish to spend thousands of dollars on one single jewelry item. Especially when you can achieve the same look as you would with the authentic brand for less than half the price. The screws design love bracelet is also another popular choice inspired by the same brand. The matching love ring is available here.
Another bracelet I am also eying is this black Hermes inspired one. Shell pendant choker necklace because shell jewellery is trending and this one has a Bohemian vibe to it. Definitely something I can see myself wearing but the only downside may be how long it lasts before fading.
Beauty
Due to my 10 step face care routine, I need something like this to help me save time. An electronic facial cleanser brush that scrubs exfoliates and massages the face. Another reason to love it is that it's waterproof and has 4 brush heads to choose from. Olay anti-aging face serum to help me with one of my major concerns (aging) and it's a steal because serums are generally very expensive.
That concludes my roundup of the most wanted things for this week and you can also check out more curated items here. Feel free to bookmark it as well because I update it on a daily basis. Hope you guys have a lovely weekend and remember to check back for next Tuesday's post.
0