Last Updated on
*I earn a small commission if you purchase through any of my links at no extra cost to you*
Weekly Roundup
Its been a while since I've done a roundup of the most wanted things on Amazon. But since the holiday season is approaching and there are so much things I need to buy, I figured now is a good time to get my weekly roundups going again.
In fact my amazon roundup posts are by far the most popular ones so I know you guys love whenever I do these type of posts.These posts perform so well because everyone trusts and loves Amazon.
Especially as a Prime Member you get access to free 2-day shipping and a lot of other good stuff. If you are not a Prime Member you can try it for free before becoming a member.
Related: How To Wear The Best Most Affordable Hair Barrettes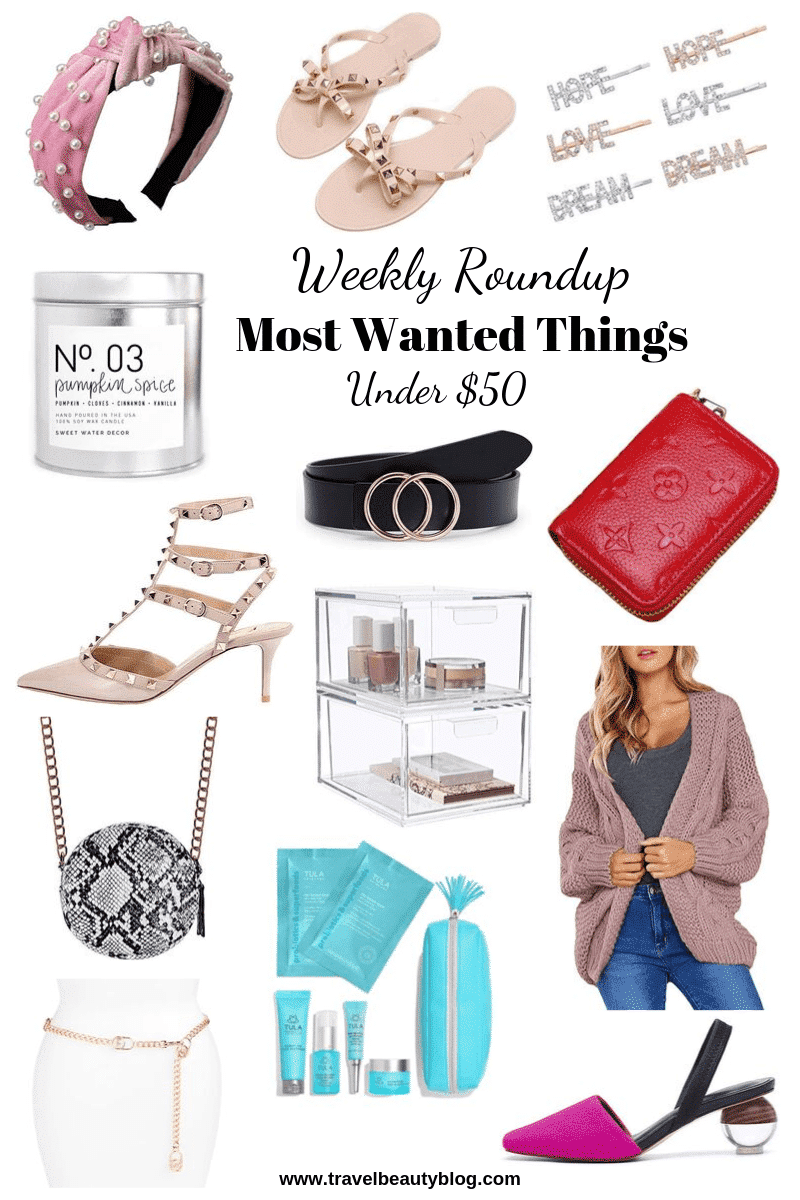 Roundup Of The Most Wanted Things On Amazon
I'm starting with one of my favourite current trends in hair accessories namely headbands, hair barrettes and hair clips. It is expected that this will continue upward trending into 2020 and that was evidenced by its popularity at NYFW and PFW.
Related: Here Are The Popular Hair Accessories From Our Childhood
Jelly Flip Flops Bow Thong Sandal
Jelly flip flops have been on my wish list forever and luckily I don't have to wait for summer to wear them. It also comes in over six different colours.
Pumpkin Spice Natural Soy Wax Candle
I'm a sucker for scented candles and since its fall this pumpkin spice candle is highly appropriate. For more fall-inspired decoration and ideas check out this 2019 guide here or shop them here.
Designer Look 

Pointed-Toe Kitten Heels
If you are into designer shoes, this is the perfect pair of Valentino Rock Stud dupes. Looks almost like the real thing, its properly made, stylish and budget-friendly. I wrote an entire post rounding up the best Valentino Dupes on Amazon which you can read here.
This double o-ring buckle belt has been popular over the past year and I never considered getting one until recently. Has a sleek and chic style to elevate your entire look and can be paired with your jeans, pants and dresses.  Apart from black its also available in leopard print and brown.
Great for wearing with a casual outfit, formal wear, everyday look or a night out. 
Small, red leather credit card holder with multi zipper closure and was made with high quality genuine cowhide leather. Equipped with 10 individual card slot pockets and 2 large cash pockets.
Say goodbye to your bulky purse because this wallet is convenient to hold cash, coins or keys. 
When your makeup and skincare products keep expanding you just need more storage to keep organised. Saw these really cute clear acrylic stackable cosmetic organiser drawers so I figured why not.
Related: The Best And Most Affordable Rosegold Home Decorations
On the topic of fall, here is another fall essential to add to your wardrobe. Absolutely love this open front knit cardigan and it comes in many gorgeous colours.
This small crossbody bag reminds me of Jacquemus's coin purses so it can be the perfect dupe.
Chain belts have been trending for a while and I haven't gotten around to getting one yet. I think that this gold tone logo lock chain belt from Michael Kors is really cute.
Whether you like it or not, square toe heels is one of fall's hottest trends this year. From the side view its hard to tell that its a square toe front shoes. But it is so beautiful and comes in over ten colours.
Related: Weekly Roundup Of The Most Wanted Things On Amazon
When it comes to skincare I'm most interested in anti-aging products and I've been wanting to try some TULA products. Especially their travel-ready discovery kit which comes with four products for the price of one.
That concludes my roundup of the most wanted things on Amazon for this month.
1