Last Updated on
*I earn a small commission if you purchase through any of my links at no extra cost to you*
Weekly Roundup Of Most Wanted Things
Starting today, every week I will do a roundup of the most wanted things on either my wish-list or just a list of my current favorites. Last week after much deliberation I finally gave in and tried some Korean beauty products which you can read about here. It was the first time trying them and although a lot of people love them, they were okay for me. Maybe as time goes by I'll get to love them but for now, let's dive into this week's most coveted things under $50.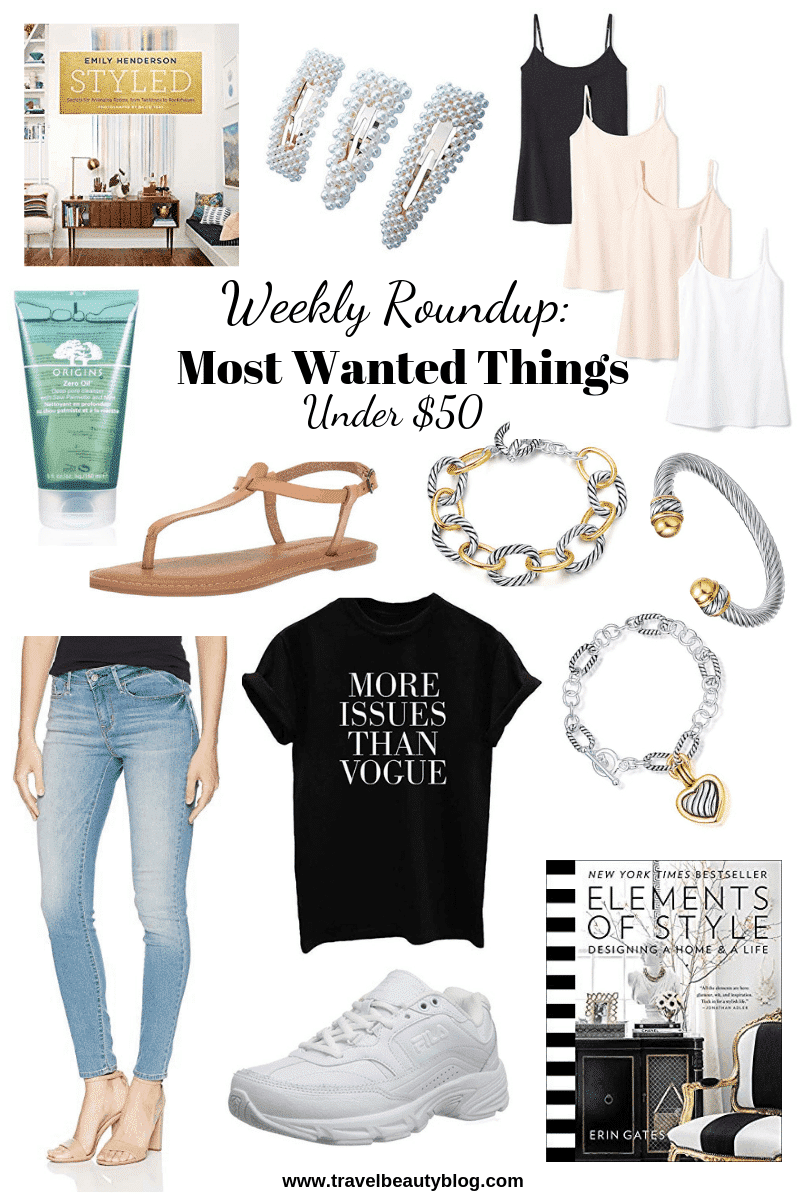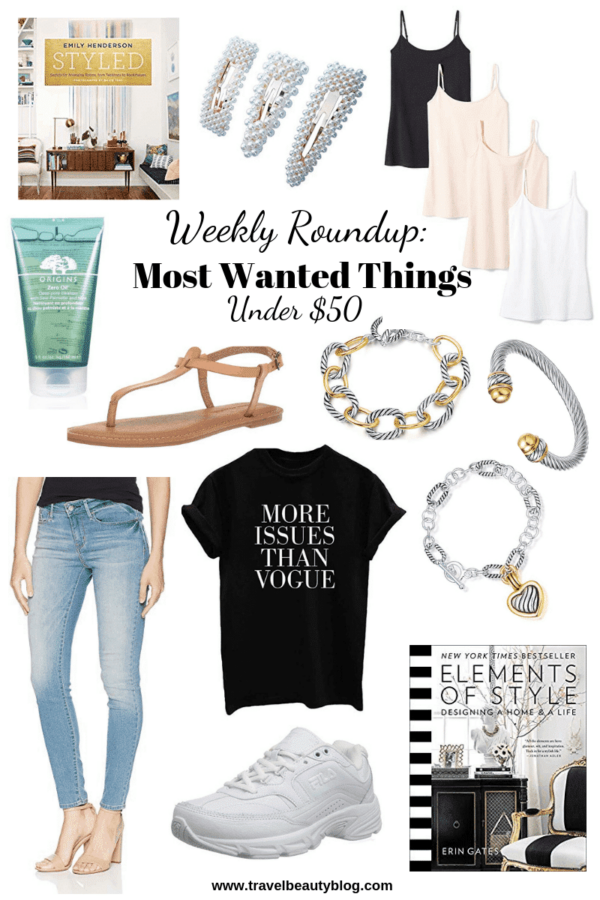 Roundup Of Most Wanted Things Under $50
Books
I've been eyeing a few coffee table books that I can't seem to stop thinking about. You know what they say if you can't stop thinking about it then buy it. So I may just have to get them both and get it over with. The first one is Elements of Style: Designing a Home & a Life and the other one is Styled: Secrets for Arranging Rooms, from Tabletops to Bookshelves. They both have 4.5 out of 5 stars reviews and at least most people agreed they are good looking books. So even if after buying it I do not like it, I know for sure that they both look nice on the outside.
Jewellery
This designer inspired vintage bracelet has been on my wish-list for too long. It looks so pretty especially when you pair it when this bangle and this other bracelet topped off with a silver watch. What makes it stand out for me is the engraving and combination of gold and silver tones.
Hair Accessories
Believe it or not, I can't get enough of the hair accessories trend and I definitely need some more like these. Some retailers have them overpriced and if you grew up an old school like me then there is a limit to how much I'll pay for hair clips. But if the price is not a concern for you then, by all means, get your heart's desire. But for now, those are the most economical and cute ones I found on the internet.
Beauty
As a beauty addict, I couldn't resist the urge of wanting to add at least one more item to my wish-list. An item that has been on my most wanted beauty list is the Origins Zero Oil Deep Pore Cleanser.
Clothing & Accessories
A pair of white FILA sneakers because everyone seems to have a pair and white shoes are trending once again.  As well as a pair of Levi's jeans to match with this more issues than vogue graphic t-shirt. Some basic camisoles because you know every girl needs some of these to wear as undergarments. On days that I just need to run a quick errand, I also wear them to go out with a pair of jeans. Finally, a pair of ankle strap thong sandal which is a basic essential and I'm loving this beige pair here.
Do you have access to deals and discounts from my favorite retailers when they go live? Only subscribed members have exclusive access to this list so be sure to subscribe if you haven't done so already.
That concludes my weekly roundup of the most wanted things under $50. Feel free to see more of my curated items here. I hope you guys enjoyed this one and are looking forward to the next one. Also remember to share it with your friends so that they too can step out in style. Hope you have a wonderful weekend and week ahead!
0