Last Updated on May 24, 2020 by Shevy
*I earn a small commission if you purchase through any of my links at no extra cost to you*
Memorial Day Weekend
Since Memorial Day is approaching I figured this week's roundup will be focused on outfits that you can wear for the memorial day weekend. Whether you are simply kicking it back with family and friends or getting dressed up for formal events. I've tried my best to incorporate both casual and occasion outfits costing under $50.
Related: 5 Summer Trends You Need To Wear Right Now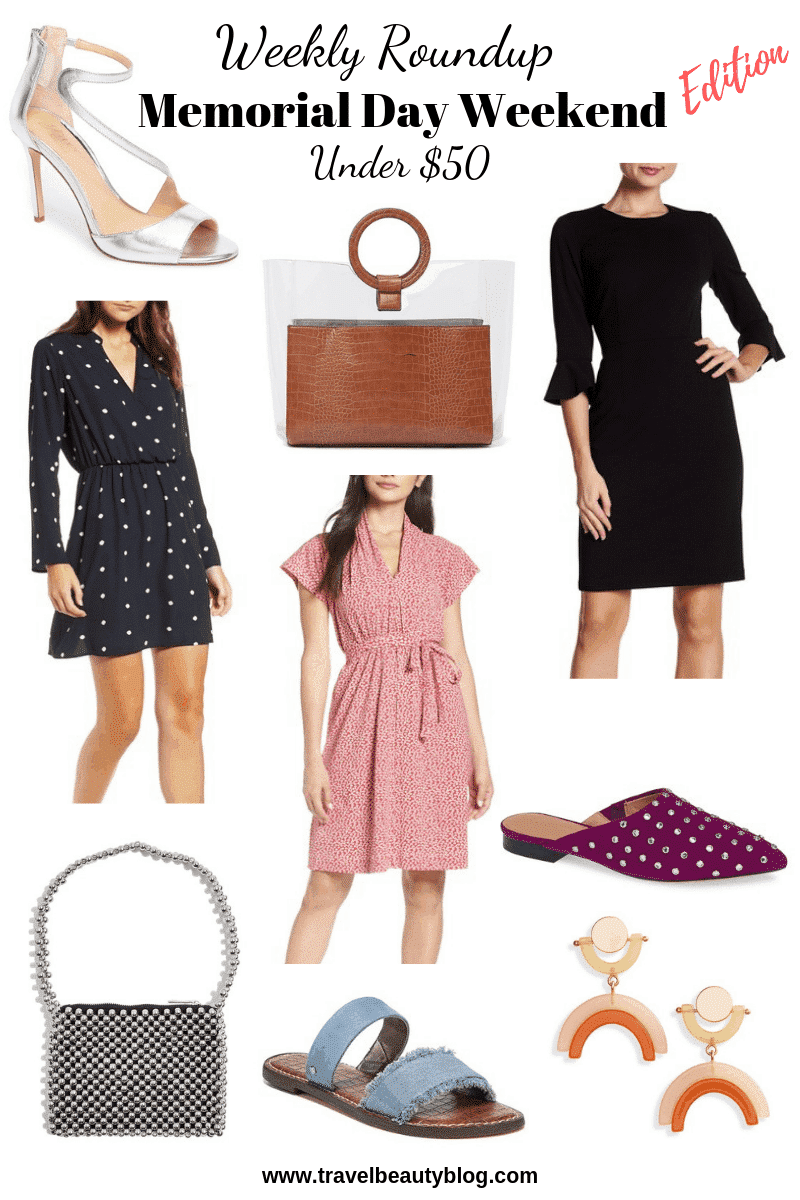 Memorial Day Weekend Outfit Ideas
Dresses
Dresses are so easy to style and I love this polka dot navy surplice dress. Its super lightweight for the warm weather, versatile and fun to style. An equally cute alternative is this French Connection floral jersey dress.  For a simpler or formal evening, you may opt for this black ruffle cuff sheath dress.
Shoes
This silver stiletto sandal could be interchanged with any one of the dresses linked above. The purple studded mules will match perfectly with blue light-washed denim pants. As for the Sam Edelman slide sandals, they can be worn with practically any casual outfit.
Related: Best Affordable Valentino Dupes
Jewellery
No outfit is complete without some sort of accessories. These Madewell modern arc statement earrings are so beautiful in this maple syrup multi-color. To match with these, I particularly like this goldtone triple layer pendant necklace.necklace
Handbags
Beaded bags are currently trending and this silver metallic shoulder bag from Topshop is not your everyday shoulder bag. It's quite a statement piece if you ask me and would pair nicely with the black or navy dress above. Another one of my favourites is this clear faux leather tote from Vince Camuto. Definitely, a statement bag that would effortlessly elevate the simplest outfit.
That's it for this week's roundup. How are you planning to spend the long weekend?
0