Last Updated on July 24, 2020 by Shevy
*This post contains some affiliate links in which I may earn a commission at no extra cost to you.*
The Most Beautiful Loungewear For Women
Forgive me if I am a bit late to the loungewear for women party but I am a big fan of pyjamas. Actually, I am now getting used to the idea of working from home and it feels so good.
For me, working at home in my favourite loungewear is just another luxury you get to enjoy when working remotely. You can totally be yourself with messy hair and no-makeup without the fear of being judged.
Since I have a little more free time on my hands, I was able to curate some of the best loungewear for women online. Not only are they drop dead gorgeous, but they are suitable for all budgets.
So if you are like me and look forward to working in your pyjamas all day long, then this post is for you.
Related: HOW TO BE MORE PRODUCTIVE WHILE STUCK INDOORS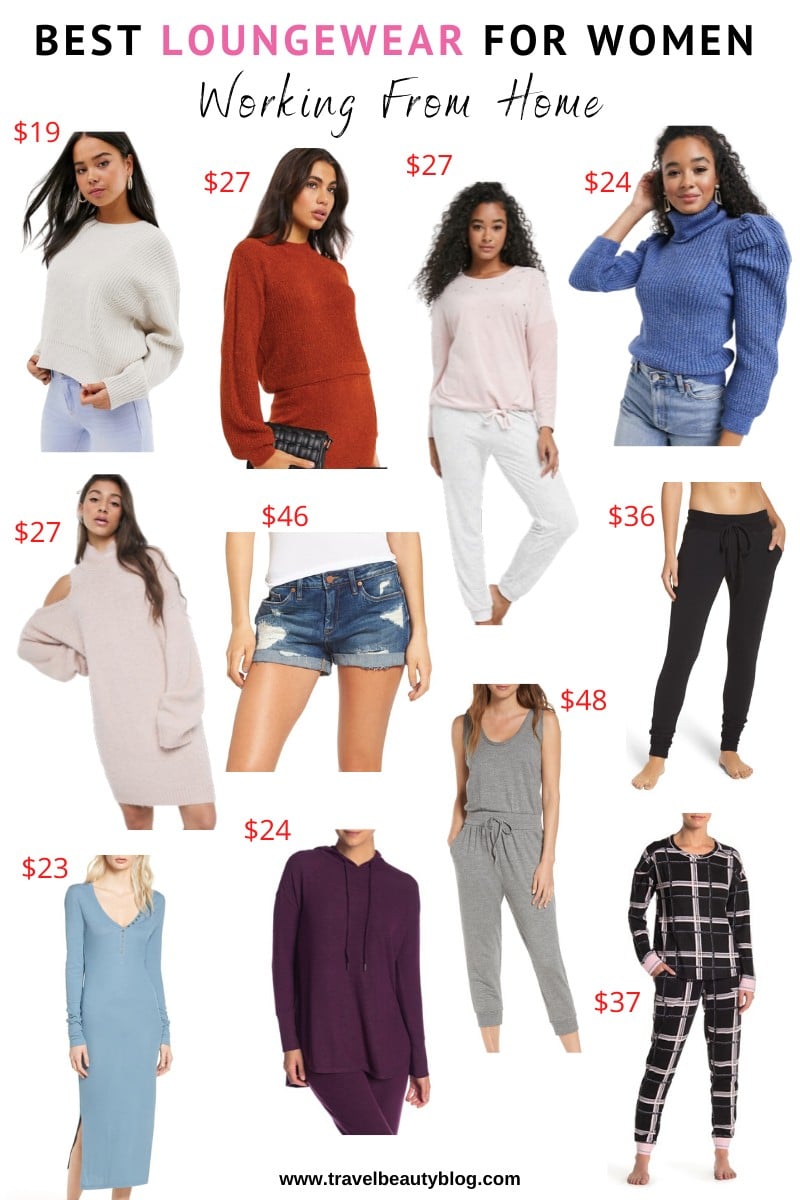 Best Loungewear For Women Working From Home
This New Look crew neck sweater is perfect for those of you who love the cropped top effect.
If you want something a bit more flouncy but with the same cropped style, then this is a great alternative. It's a rust colour sweater and skirt combo in natural look yarn. Related: The Best Spring Fashion You Can Wear Right Now
This is exactly the type of loungewear for women you can find me wearing on any given day. A matching loose fitting sweater and trousers set in pink.
Another New Look sweater but this one is in a very cute mid blue. With a ribbed effect and extra puffy sleeves to keep you warm and cozy.
Related: The Best Fitness Gears For Getting And Staying Active
Dusty pink oversized knitted dress with extra long sleeves and cut out shoulders.
I love wearing good pair of short denim pants around the house. This one from BLACKNYC is extra cute with the distressed look and rollup hemlines.
The next best thing to wearing pyjamas is a soft comfy all in one jumpsuit. But the only downside is that you have to take off everything in order to use the bathroom.
If you have no problems with that then jumpsuits is a great loungewear for women. They are also great for working out in as well.
Related: How To Save Money For A Rainy Day
I don't know what I would ever do without my favourite pair of skinny sweatpants.
Ribbed dresses are fun to wear as well and it doesn't matter if they are long or short. The best part is that they can be worn to sleep in or around the house. An alternative to this nightshirt is this moonlight tank nightgown.
If for some reason you have to take Zoom calls with your boss and colleagues. This drawstring hoodie may be a more suitable option which still maintaining the lounge mode.
An ultra soft pair of pyjamas with a long sleeve crew neck shirt and jogger styled pants. Pyjamas wins it for me in terms of the best loungewear for women to work at home.
DISCLAIMER:
In light of the current pandemic I understand that some people are experiencing hardships and unemployment. This post is in no way to persuade anyone to buy, nor am I insensitive to what's going on globally.
This post is for inspiration purposes and doesn't imply that you need to shop during a recession. I always try to encourage persons to resist impulse shopping if you don't really need something.
Most importantly and by all means, utilise what you already have!
You may also be interested in: 10 Things I Stopped Buying To Save Money
Do you have a preferred type of clothing to wear at home? What's your favourite loungewear to wear on any given day?
1