Last Updated on September 14, 2020 by Shevy
How To Be Versatile With Styling A Leather Skirt
The best thing about a black leather skirt is its versatility. Summer is just around the corner and it is a must-have piece that will also take you through Fall. Personally I have never really been a fan of leather skirts because of my shape. Previously leather skirts were either pencil which I found were too fitted for me or skater style which I do not like because they make me look weird.
Related: 5 Summer Trends To Wear Now
I earn a small commission if you purchase through any of my links at no extra cost to you. Read full disclosure here.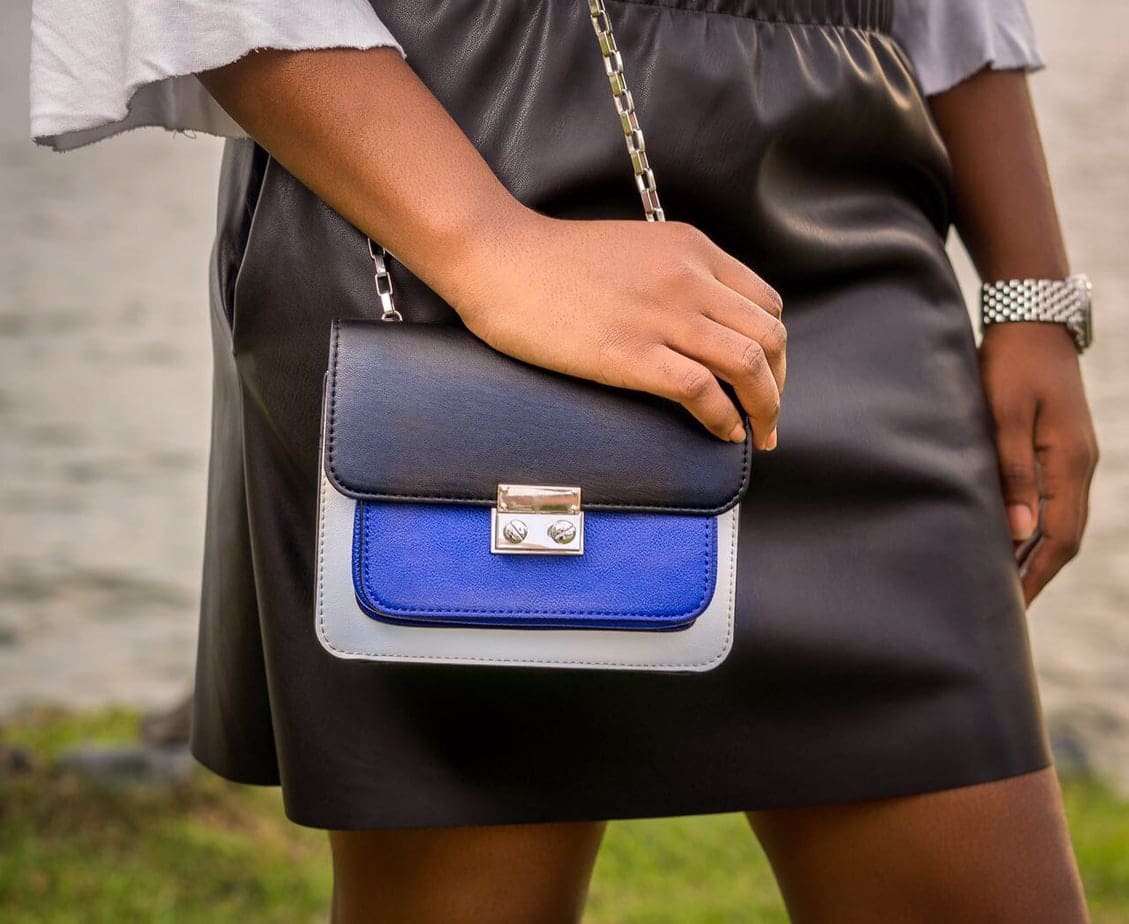 Styling A Leather Skirt
Recently while at Zara I found this black petite light-weight leather skirt with side pockets. It was not pencil neither flouncy but had enough room to cater for my large hips and butt. Being the fashionista that I am, many ways in which to style the skirt came to mind.
Striped shirts, plaid prints, sweatshirts, ruffle sleeve tops, tights and stylish neckties. Ankle boots, block heeled mules/sandals, sneakers, loafers and strappy heels/sandals. Several ideas flooded my head but I decided on pairing it with a solid top with a pair of block-heeled mules.
Top
The white bell sleeves top that I am wearing is from Bershka.  A trend that has been in for quite some time and is not going anywhere soon.
Although my plan was to go for a more sophisticated but casual look, I figured a necktie would add some edge to my outfit. Luckily I already had this bandana hanging around my wardrobe that I purchased a while back from Forever21. Since the skirt has an elastic waist the top remained tucked nicely inside it.
Related: HOW TO STYLE FLORAL PRINT TOP | MY FIRST BLOG PHOTO SHOOT
Necktie
I am here for the bandana necktie trend! Thanks to celebrities and popular Bloggers, a lot of people have added bandanas to their wardrobes. That little piece of cloth is inexpensive and literally transforms my outfit with little effort.
Alternatively, it can be used as a head-tie to switch up the look or it can even be tied to the straps of my handbag. You might be amazed to see your outfit transformation. As a bonus, you can use it as a belt or worn as a bracelet.
Block-Heeled Mules
Block-heeled mules and slides are every where this season and I find that they are comfortable and versatile. With this outfit I am wearing a pair of black suede block-heeled mules which has fur on the heels.
What I love about it is that it can be used to go out or dress up at the office as it matches with almost anything.
Related: WHERE TO GET THE BEST SUMMER OUTFITS FOR CHEAP
Colour-Block Cross Body Bag
Now lets talk about the colour-block cross body bag. Silver detailing straps gives this bag a dress look, the main reason why I chose to wear it with this outfit. A classic piece that can be mixed and matched with many other outfits. Not too small as it is the perfect size to hold all my essentials.
Pin For Later:
Are you feeling the 90's trend? How do you style your leather skirt?
Save
Save
Save
Save
Save
Save
Save
Save
Save
Save
0