Last Updated on August 15, 2020 by Shevy
*I earn a small commission if you purchase through any of my links at no extra cost to you*
What Is A Summer Capsule Wardrobe?
A summer capsule wardrobe is made up of cute casual outfits that you love to wear all summer long. It consists of essential summer outfits and accessories that does not go out of style such as basic tees, shorts sandals and sundresses.
Building a summer capsule wardrobe for summer is a lot easier than most people think.
Your main goal should be finding the clothing items that can be easily mixed and matched to make cute outfits, and most importantly, can be worn on repeat.
For each season, you can have a capsule wardrobe which is like a subset of your actual closet.
The main purpose of having a summer capsule wardrobe is not having to stress over what to wear.
Related content: WHERE TO GET THE BEST SUMMER OUTFITS FOR CHEAP

The Benefits Of Having A Capsule Wardrobe For Summer
No time is wasted on picking and choosing outfits
It's much easier to remember what clothing items you have and put them to use
You save money by only buying the essentials
They are statement and timeless pieces which means they can be used repeatedly
You can actually enjoy dressing in the clothes you love
No stressing over latest trends and trying to keep up
Summer Capsule Wardrobe 2020 Outfit Ideas
Basic Tees
Jeans
Shorts
Blouses
Graphic Tees
Dresses
Jumpsuits
Denim Jackets
Essential Accessories To Create Your Classy Summer Capsule Wardrobe
Straw bags
Hats
Sunglasses
Belts
Sneakers
Sandals
Birkenstocks
Espradilles
Mules
Related: THE BEST AMAZON SUMMER FASHION UNDER $100 RIGHT NOW
My Go-To Retailers For Cute Casual Outfits For Summer:
Nordstrom
Nordstrom Rack
Amazon
Boohoo
Forever 21
& Other Stories
Urban Outfitters
---

How Do You Make A Summer Capsule Wardrobe?
From the lists above, you can take note of the clothing and accessories that you want to include in your capsule wardrobe. Once that is done, you will need to source the items online from your preferred retailer.
So let's start with the first item on the list which is basic tees. If you don't want to create your own summer capsule wardrobe from scratch, you can GRAB YOUR FREE COPY of my Summer Capsule Wardrobe Checklist and E-Book HERE.
Related: HOW TO WEAR A WHITE TEE AND LOOK GOOD
These don't necessarily have to be white, they can be in fun colours like pink, blue, yellow or grey. Basic tees can be paired with jeans, skirts and shorts to make some of the best casual summer outfits.

When it comes to jeans you may want to have one pair in each possible colour. One pair of light blue washed jeans, one black and one white. My recommendations for the best jeans brands are Levi's, Good American, AGOLDE, Madewell, Urban Outfitters and American Eagle.
Some of the jeans are a bit pricey but consider it an investment. You only need to buy it once and can wear it forever.
Related: THIS IS HOW TO STYLE YOUR FAVORITE JEANS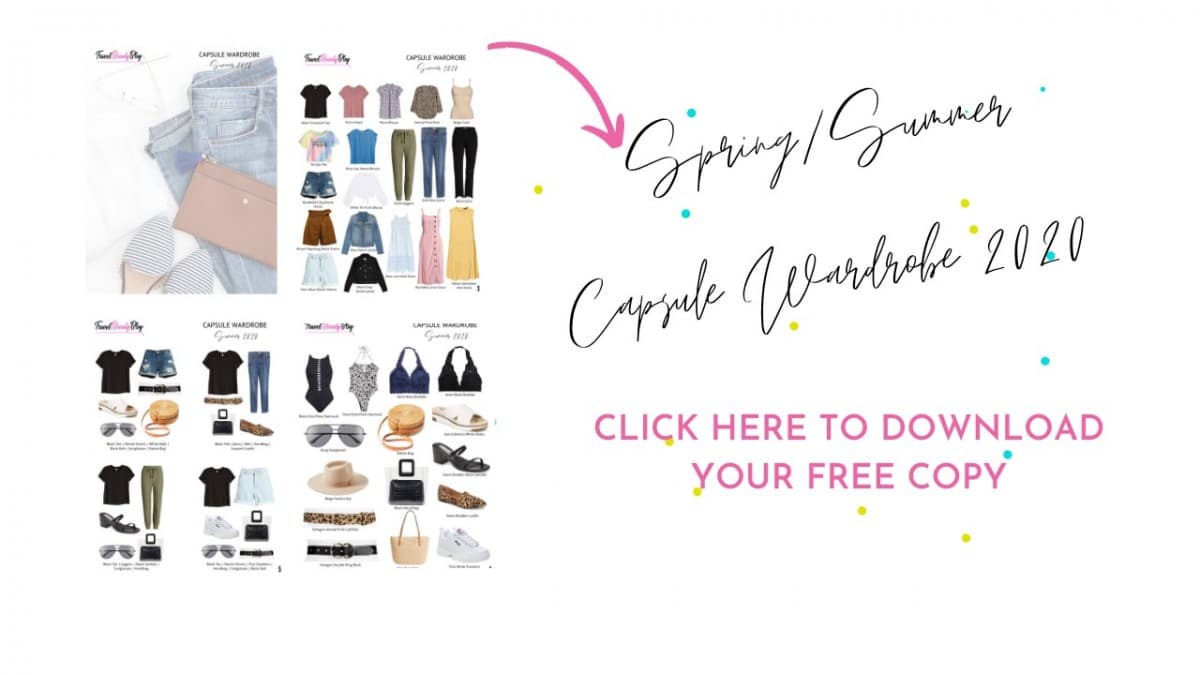 What is summer without a pair of your favourite shorts? They can range from denim shorts to Bermuda, linen shorts or even biker shorts. It's good to have at least 1 or 2 pairs that you can use to create some cute casual summer outfits.
Related: 5 SUMMER TRENDS YOU NEED TO WEAR RIGHT NOW

You don't only want to have a few basic tees but also incorporate some cute blouses. To wear on the not-so-casual summer days or to an evening out. Add some versatile pieces like solid colours, abstract prints, polka dots and animal prints.

Graphic tees are one of my favourite summer outfits because I can wear them all the time and on repeat. They are funky, very easy to style and matches well with jeans, trousers, skirts, leggings and shorts.

When it comes to summer dresses there is no limit in terms of how much to include in your summer capsule wardrobe. But you'll want to have a variety of choices in terms of prints, lengths and colours.

---
In addition to having a few pair of jeans, adding 1 or 2 pairs of trouser pants is good for those days when you are not feeling to wear jeans.
Related: HOW TO STYLE LEATHER LEGGINGS IN 5 EASY WAYS

Two pairs of denim jackets are sufficient to last the entire summer months. One blue, one black, one cropped and the other in a regular length.
Related: TIMELESS CLASSICS THAT WILL NEVER GO OUT OF STYLE

Can't have summer without some swimsuits and coverups for pool and beach days. Hopefully summer 2020 isn't cancelled entirely and everyone will be able to spend some much needed time outdoors.
Related: The Best Swimsuits To Hide A Tummy Bulge

---
SUMMER ACCESSORIES
You only need to have one or two summer bags that can be used interchangeably with all outfits in your summer capsule wardrobe. Preferably one for everyday use and another to use at the beach or pool.

I am not a big fan of wearing hats but they come in very handy when outside in the sun all day. They are especially great for protecting your head from the sun on beach and pool days.

My favourite sunglasses to wear on any given sunny day are the ones from Quay Australia. They make some of the most affordable, luxury-look sunglasses you can find on the internet.
They are chic, feel and look expensive and they really do take your cute summer outfits to another level. Whenever I wear my Quay Australia sunglasses, I get a lot of stares, compliments and questions about them.
If you want the designer look without spending too much money, I highly recommend getting them.

Your summer capsule wardrobe won't be complete without at least one pair of designer belt. Similar to the sunglasses, one or two pairs of sunglasses is all you need to complete your cute outfits for summer. It doesn't have to be a classic Gucci belt but if you can afford it go for it.

Birkenstock, Sam Edelman and Steve Madden always win my heart when it comes to buying summer sandals, shoes and slippers.
Related: NOW THESE ARE THE BEST UNDER $100 SANDALS FOR SPRING

Lace Bralettes are ideal for wearing under oversized basic tees and sheer blouses. Add one or two bralettes to your summer capsule wardrobe to elevate a basic summer outfit.

Capsule Wardrobe Checklist
Have you made your summer 2020 capsule wardrobe yet? If not, there is a bonus treat for you so that you can create your own capsule wardrobe for summer. I have created a Summer Capsule Wardrobe CHECKLIST and you can GRAB YOUR FREE COPY HERE.
You can also download my Spring/Summer Capsule Wardrobe 2020 E-Book here.
Spring/Summer 2020 Casual Capsule Wardrobe Examples / Outfit Ideas: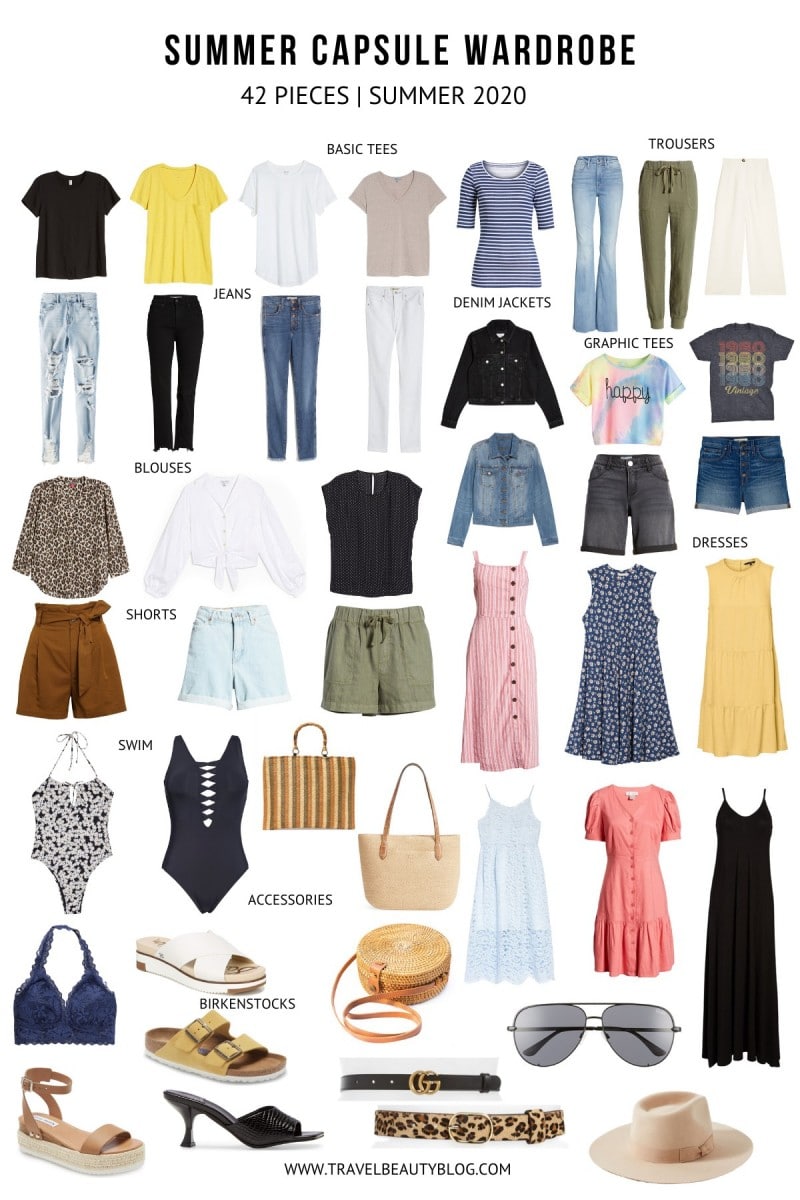 Download the FREE E-Book here for more outfit ideas to build your capsule wardrobe for Spring/Summer 2020.
Light Summer Capsule Wardrobe Items Listed From Left To Right
TOPS
Black Crewneck T-Shirt – Nordstrom
Yellow Rounded V-Neck Tee – Nordstrom
White Cotton Crewneck T-Shirt – Nordstrom
Chain Trim V-Neck Tee – Nordstrom
Elbow Sleeve Striped Tee – Nordstrom
BOTTOMS
Fray Hem Jeans – Nordstrom
Green Linen Jogger Pants – Nordstrom
White Wide Leg Trousers – Nordstrom
Distressed High-Waisted Jeans – American Eagle
Black High Rise Jeans – Nordstrom
Blue High Rise Skinny Jeans – Nordstrom
White High Waist Skinny Jeans – Nordstrom
JACKETS
Black Cropped Denim Jacket – Nordstrom
Blue Denim Jacket – Nordstrom
GRAPHIC TEES
Tie Dye Crop Top – Amazon
Retro Vintage Graphic T-Shirt – Amazon
BLOUSES
Leopard V-Neck Top – Nordstrom
White Poplin Blouse – Nordstrom
Cap Sleeve Polka Dot Top – Nordstrom
SHORTS
Black Mid Thigh Shorts – Nordstrom
Blue High Waisted Denim Shorts – Nordstrom
Paper Bag Waist Shorts – Nordstrom
Blue Mom Denim Shorts – Nordstrom
Green Linen Shorts – Nordstrom
DRESSES
Asymmetrical Button Linen Blend Midi Dress – Nordstrom
Print Sleeveless Knit Dress – Nordstrom
Yellow Sleeveless Minidress – Nordstrom
Light Blue Lace Midi Dress – Nordstrom
Linen Blend Shirt Dress – Nordstrom
Black Knit Maxi Dress – Nordstrom
SWIMSUITS
Floral One-Piece Swimsuit – Nordstrom
Black One-Piece Swimsuit – Nordstrom
BEACH BAGS
Striped Woven Satchel – Nordstrom Rack
Squishee Tote – Nordstrom
Rattan Bag – Amazon
BRALETTE
Aerie Lace Bralette – American Eagle Outfitters
SHOES
White Birkenstock Slide Sandal – Nordstrom
Yellow Birkenstock Footbed Suede Sandal – Nordstrom
Tan Steven Madden Sandal – Nordstrom
Black Slide Sandal – Nordstrom
BELTS
Black Gucci Leather Belt – Nordstrom
Animal Print Belt – Nordstrom
SUNGLASSES
Quay Australia Aviator Sunglasses – Nordstrom
HAT
Beige Fedora Hat – Urban Outfitters
Remember, in making your summer capsule wardrobe, it doesn't have to be a black and white summer capsule wardrobe. You can mix and match with fun colours and prints. Additionally, you can turn it into your summer to fall capsule wardrobe.
Good luck creating your own capsule summer wardrobe and be sure to tag me in it. If you have not yet downloaded the free summer capsule wardrobe checklist you can do so HERE.
0