Last Updated on September 14, 2020 by Shevy
I'm So Crushing On The Houndstooth Print Right Now
Not too long ago we had the Gingham prints taking over summer now I'm crushing on the Houndstooth print which has been making a big statement on runways and at Fashion Week. It is a style that is also popular amongst Fashion Bloggers this fall.
I remember a few years ago when Houndstooth was wearing, it was mainly in black and white fabrics. But now as it is making a come back, its widely available in red, brown, gray and black pieces.
I earn a small commission if you purchase through any of my links at no extra cost to you. Read full disclosure here.
Related: BRANDS LIKE GYMSHARK THAT ARE BEAUTIFUL AND AFFORDABLE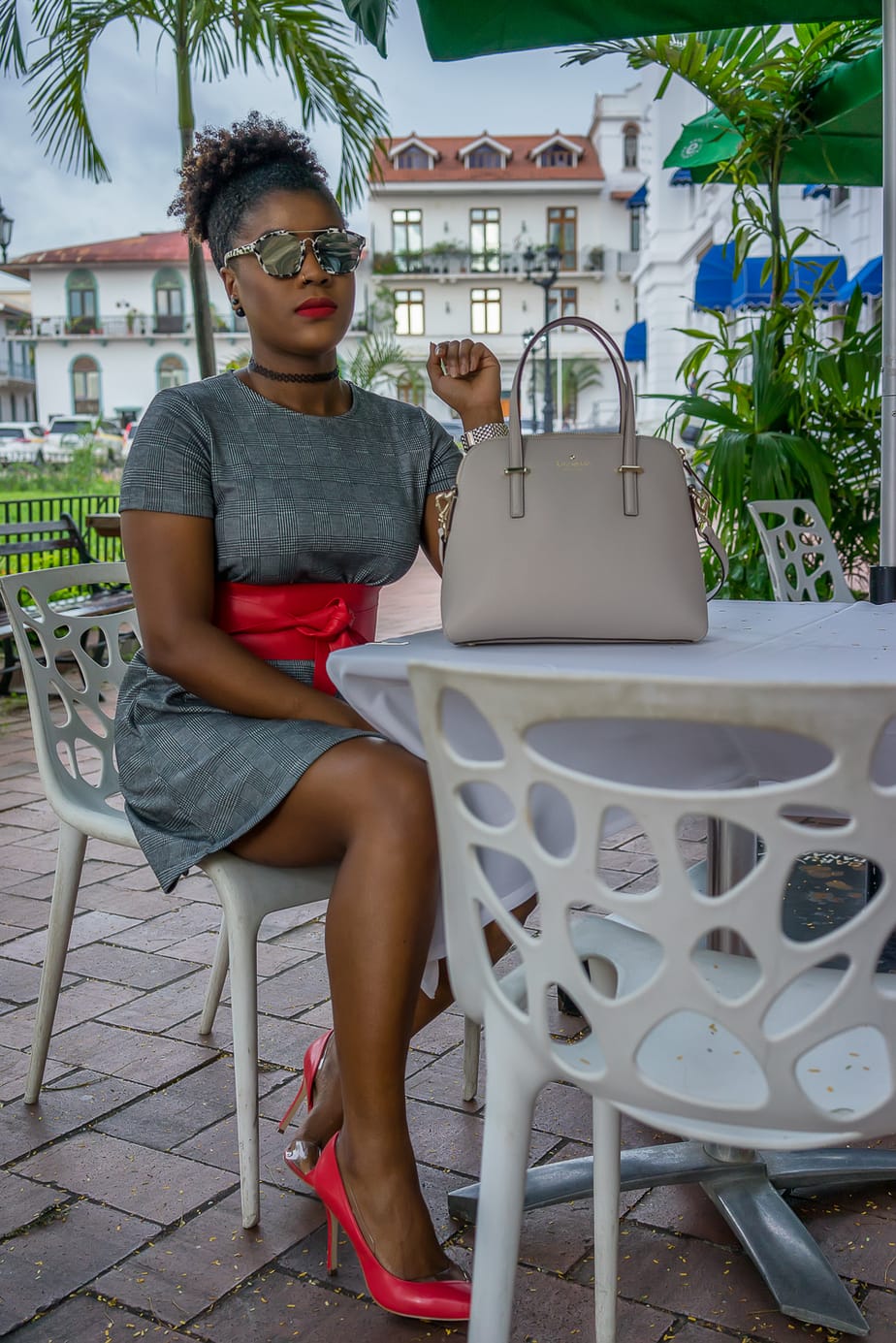 Houndstooth Print Dress
Houndstooth is one of those prints that can be worn on any occasion. Either in a casual or business setting with the  choice of a dress, blazer or trousers.
This seems to be one of those styles that circles back around really quickly because I still own a pair of houndstooth necklace from the last time it was trending. But I didn't wear it with this dress so I'll probably do so with another outfit; something less dramatic or a against a solid colour.
The Dress And The Belt
At the time I bought this dress I was actually looking for a houndstooth trousers, one that I can wear for both work and going out but after trying it on I didn't like how it looked. So I gave up and as I was on my way out of the store, that's when I saw this dress on a rack.
Decided to try it on and the fit was pretty cool so I ended up getting this instead. The dress has a wide flare and the fit is not really flattering so I knew I needed to give it some shape. Also, its gray and black which makes it look dull. So I used a red wide belt to accentuate my curves and for a pop of colour.
Related: THIS IS HOW TO STYLE YOUR FAVORITE JEANS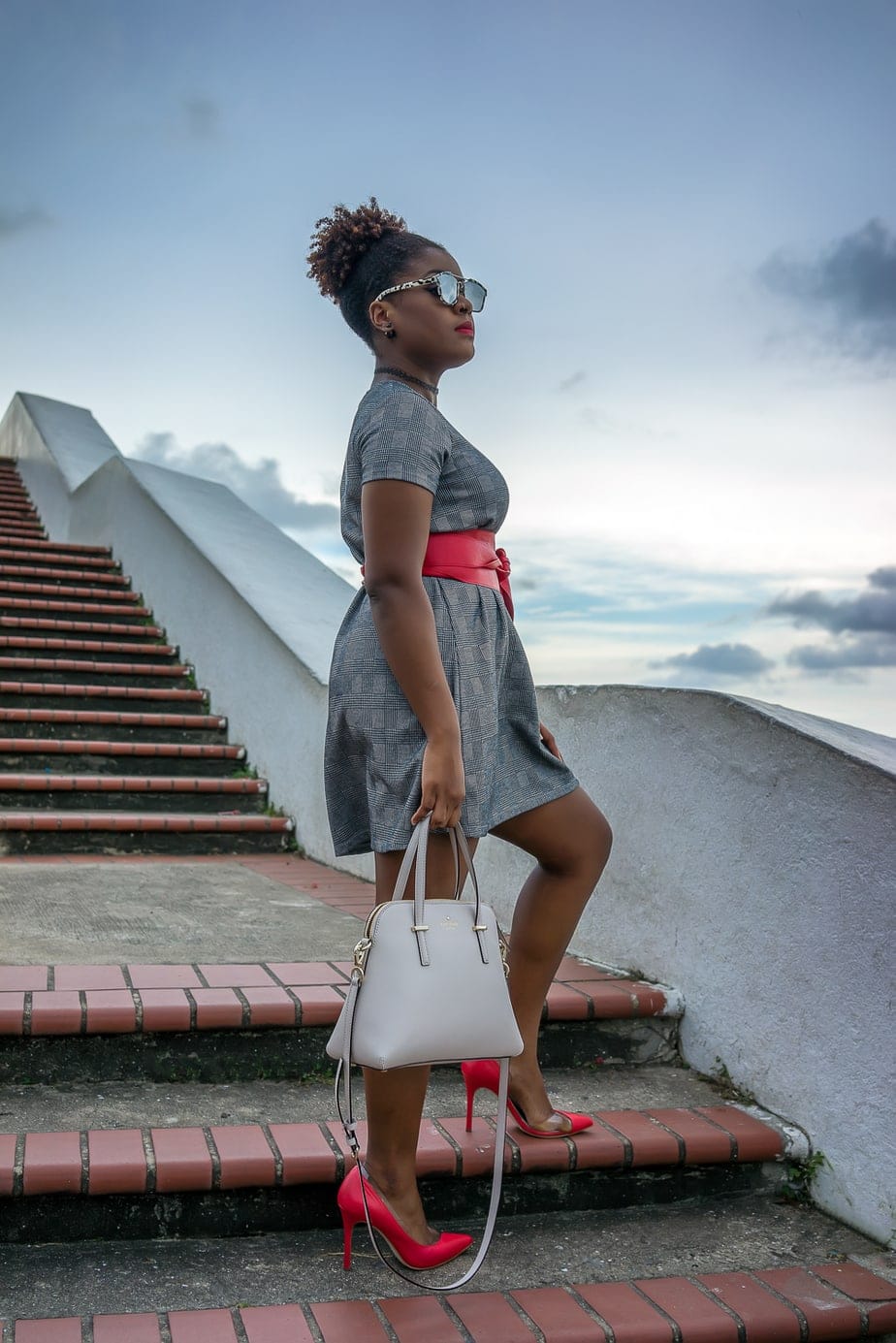 The Shoes
These pumps are a mixture of leather and plastic from BCBG and I hardly ever wear them out because its so high but they are great for functions and events that doesn't require a lot of walking. They are the reason why I chose to go with a red belt because I knew I had a red pair of shoes to match up.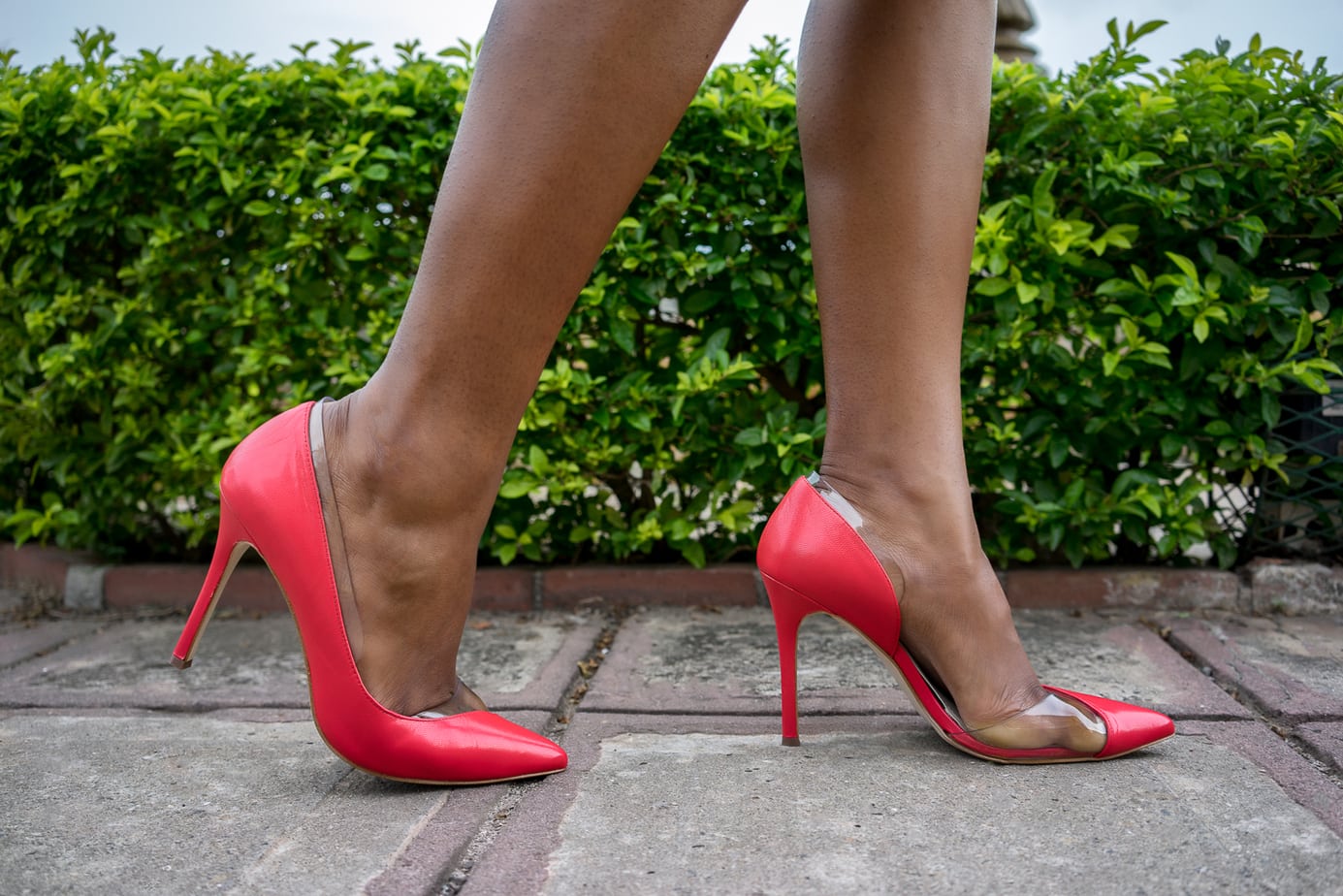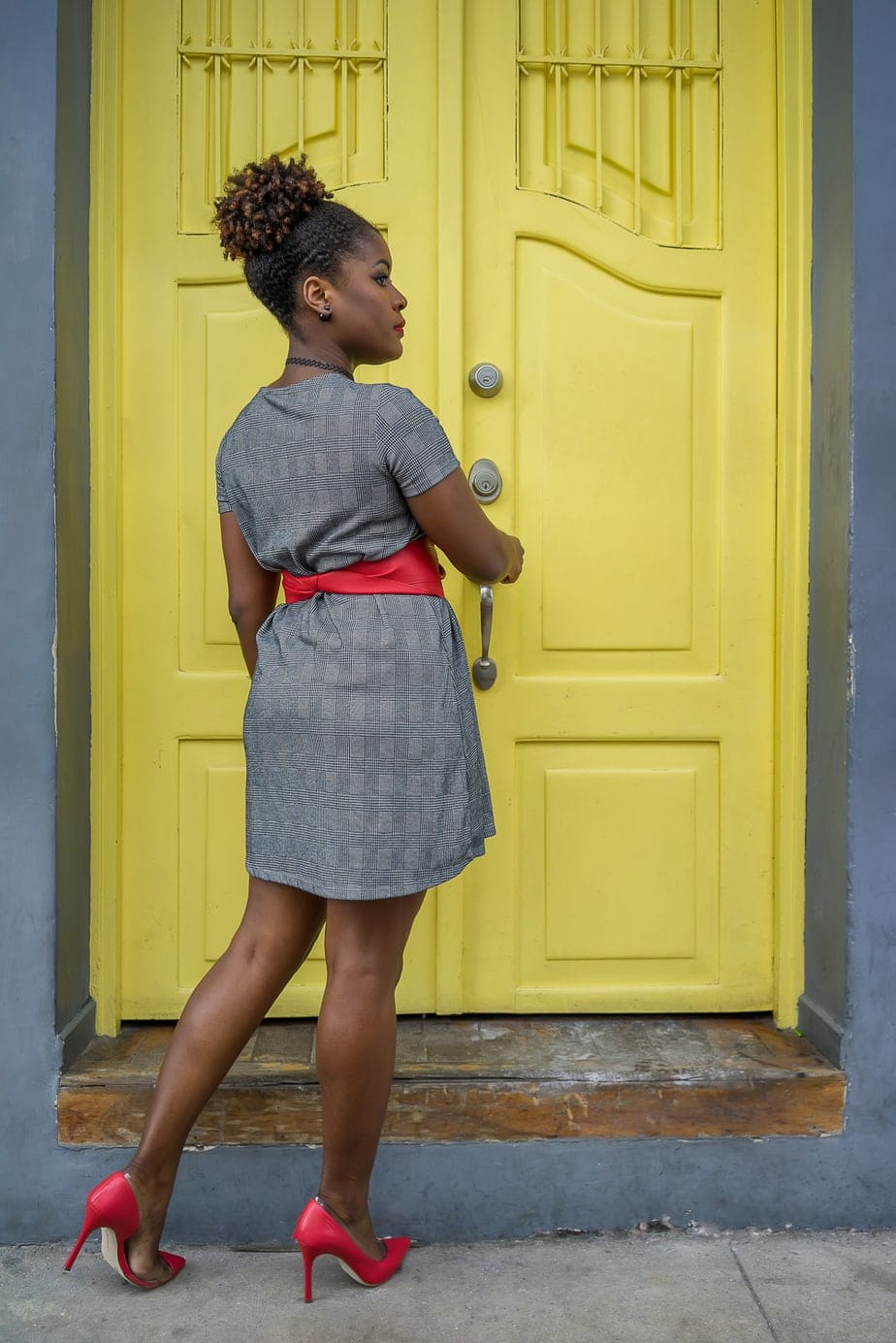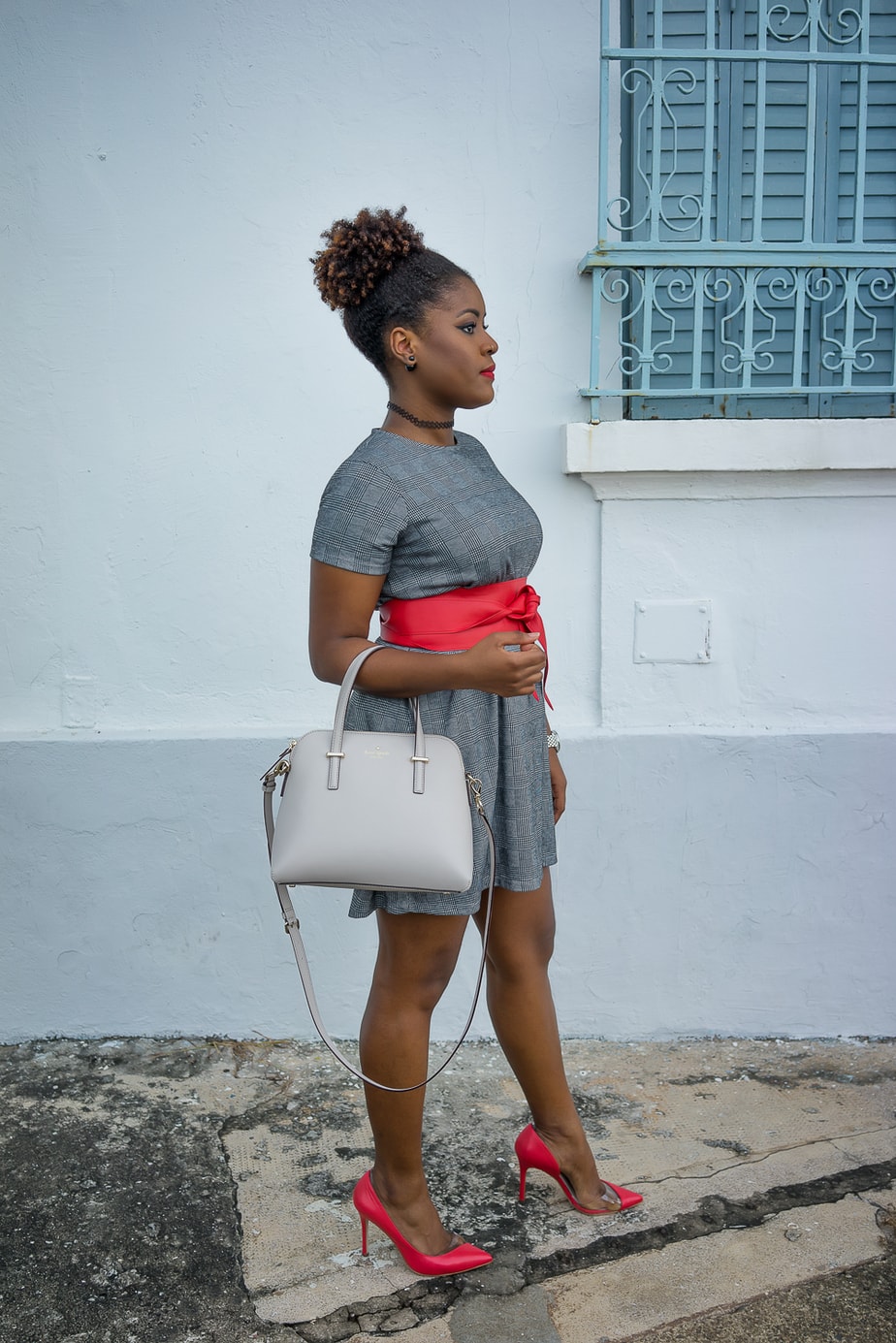 Additionally, this Wednesday's post is all about outfits for Fall 2017 so remember to check back at 8am EST when the post will be live. Don't forget to sign up to newsletters so that you can receive notifications of all my latest updates:
What style would you like to see me wear next?
Related: THE BEST KENDRA SCOTT LOOK ALIKE NECKLACE FOR CHEAP
For inspiration I put together some pieces down below that can help you create a similar look or give you some ideas for building your fall wardrobe.
Shop
Save
Save
0