Last Updated on June 26, 2020 by Shevy
My First Designer Bag
I decided to write this post to provide tips to women on how to purchase their first designer bag without breaking the bank. You don't necessarily have to be rich to own a luxury item. All it takes is a little bit of strategy and patience.
By this I mean, strategy in how you are going to come up with the money and patience while saving and budgeting for it. My first designer bag was from Michael Kors and I still remember it like it was just yesterday.
Lets face it, we all have that 1 item we wish we  could have but in the natural realm it seems impossible to own it. It may be a high end vehicle, owning an estate or business, purchasing a designer item, a vacation trip etc.
In this post I will make reference to a high-end designer bag (Louis Vuitton Speedy 30) but you can apply these simply steps to something else.
Related: Roundup Of The Most Wanted Designer Dupe Bags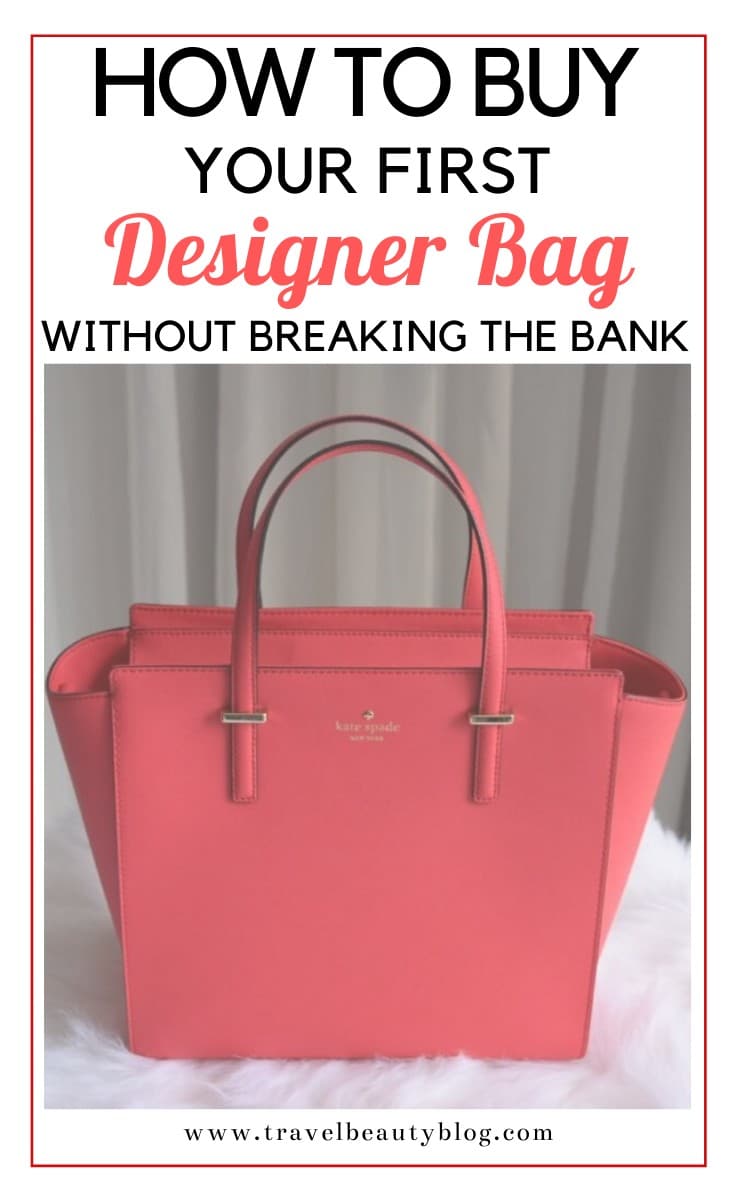 How to Buy your first Designer Bag without Breaking the Bank
The Speedy 30 Louis Vuitton Bag costs approximately US$970. If you wanted to own this bag, instead of using your credit or debit card or cash up front, allow at least 12 months for saving up the money. In this way, you do not end up in debt or with a maxed out credit card.
I have a bad habit of going to the mall after getting paid at the end of the month. I often find myself buying random clothing items, that I don't necessarily need. I would say its "a treat to myself".  Its non-budgeted sum of money that I usually have in hand after my monthly budget.
As you know there's nothing wrong with a little "retail therapy". Most times I end up spending between $60-$100 and admittedly I leave the mall feeling better about myself.
Related: The Ultimate Guide To The Best Beach Bags
So here are the strategies I would use if I wanted to purchase the Speedy 30 bag:
 I would allow at least 10-12 months to save the money.
Divide the cost by the month.
Stay away from the Malls especially after just getting paid.
 Each month set aside $85 – if it helps, place this money in a separate envelope labeled "Louis Vuitton Bag". Put it in some place that its not seen everyday – until the next pay day.

 Only buy what I need and budget accordingly.
After the first six months you would have saved $510 with a goal of $460 remaining. If after your budget you realize you still have a little extra in hand, feel free to increase the amount to lets say $100. This means you would attain your goal in a shorter period of time.
Related: The Most Affordable Designer Bags To Invest In
As each month goes by and the realization of that goal becomes clearer, that is what would motivate you to keep going.
Don't let the urge of wanting the item immediately discourage you from getting it the longer term. This way you can live comfortably without having to scrape to get by during the month. Remember keep your eyes on your prize.
Divide the cost of the item into months then see if it is feasible in your budget. If the amount is too steep, increase the amount of months so that it will correspond with how much you are willing to save each month.
Related: 10 Amazing Camera Bags That Are Actually Worth It
Best time to Purchase
The best time to make that purchase is on Black Friday or Cyber Monday. Most luxury Brands do not offer discounts especially on Black Friday and Cyber Monday. The prices listed on their website and in stores are what you would most likely pay throughout the year.
Kate Spade & Michael Kors for example, usually offer sale exclusively to customers who have signed up to receive their newsletters. Around Black Friday and Cyber Monday you can also expect to see prices marked down for at least 40-50% off the original price.
So good luck on getting that new bag.
Have you tried using this saving strategy before? If not, what other strategies have you used to purchase your first designer bag?
Save
0