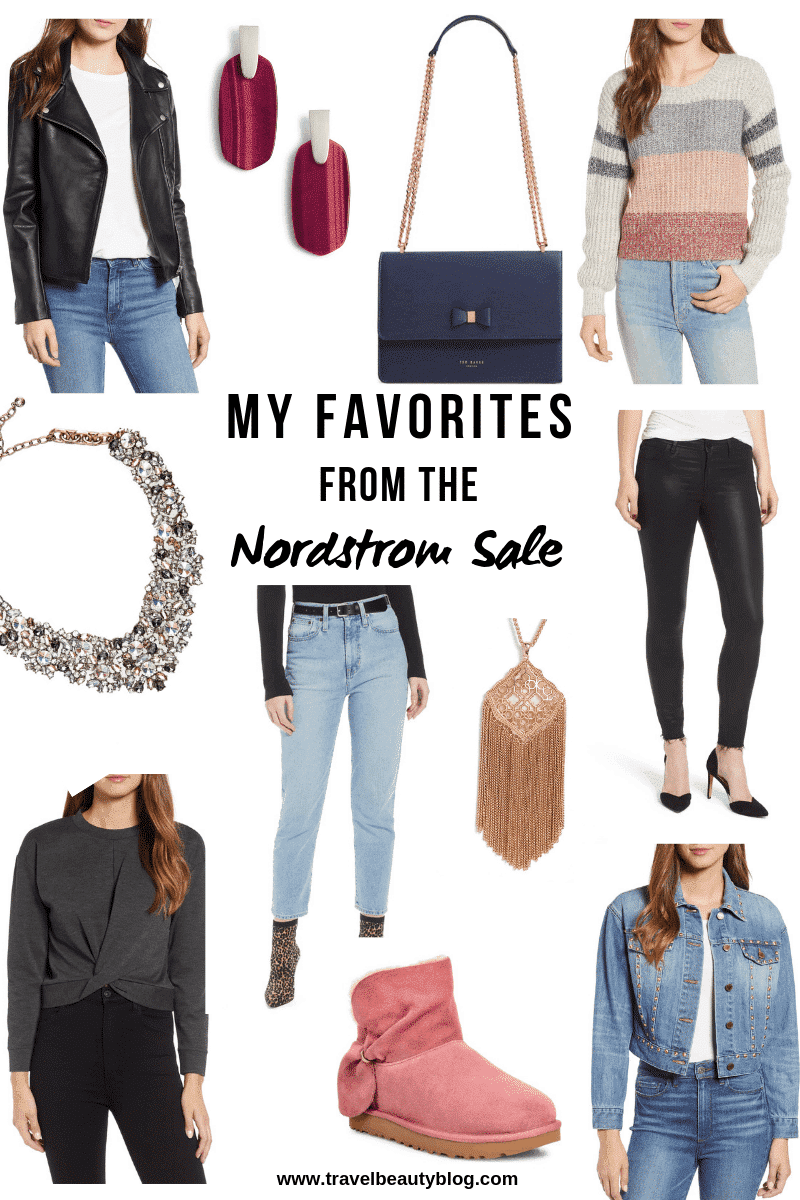 We are a participant in various affiliate marketing programs and may earn a commission for any purchases made through these links at no extra cost to you. Read full disclosure here.
Nordstrom Sale
I couldn't help but notice that the 40% off Nordstrom sale is still ongoing. Over the weekend in the midst of researching blog post ideas, I went to their site in search of some beauty products. Us gals love a good sale and I had to come back to share some more of my favorites.
Although some of the things I linked in this post are sold out, they have a lot more markdowns in stock. Most of these items are transitional pieces that you can wear now and mix in with your current winter wardrobe.
Related: Nordstrom Half Yearly Sale
What To Get From The Nordstrom Sale
A great pick for going out with the girlfriends on a chilly spring night.
Complete your daytime look with this cute pair of Kendra Scott Burgundy Drop Earrings.
If you know the regular price of Ted Baker bags then you know this is a steal. Such a practical and chic bag that can take you from the office into the evening. I love the touch of the gold chain strap which takes it up a notch.
Needed for cold spring days when the weather just won't let you be great. Such a stylish and pretty colour sweater that you can wear to work on a Friday.
No outfit is ever complete without a piece of jewellery. This statement collar necklace is perfect for casual days.
What I love about this pair of jeans is that it has a faux leather leggings look.
One of the most popular jeans wearing now is cigarette jeans. Love the light blue wash on this one and you can dress it up or down.
A dramatic pendant necklace with fringe that is great for layering.
My most favorite on this list is this gray ponte twist sweatshirt that has a crop effect. Suitable for running day time errands or shopping at the mall.
Ugg Mini Bootie is definitely a cozy cold-weather favorite with an oversized bow for added style. Perfect for transitioning from the winter to the spring season while still looking pretty.
Score this vintage Michael Kors denim jacket for only $135, a must-have staple.
Hope you guys are even more excited for the warmer days ahead. Good luck scoring your favourite transitioning pieces at 40% less before the sale is over. Remember if you can't stop thinking about it, buy it (before its too late).
Last Updated on 4 months by Shevy
Shevy
Hi! I'm Shevy! I'm the Founder and Managing Editor of Travel Beauty Blog est. 2016. I am also the Founder of Shevy Digital Marketing Agency where I work with new and upcoming entrepreneurs and bloggers.