Last Updated on June 5, 2021 by Shevy

*I earn a small commission if you purchase through any of my links at no extra cost to you*
Everyday Makeup Essentials
What is life without having everyday makeup essentials I your makeup bag? You know the beauty products you can't live without and take them with you everyday? Honestly I know for a fact I do not use half the products in my bag on a daily basis. But I just tell myself that I need them with me all the time.
Something about having them inside my handbag makes me feel much secured when leaving the house. On days when I tend to use a smaller bag, it does feel a little weird and as though I am forgetting something. Towards the end of this post I am also listing my travel makeup bag essentials.
Related: Cover FX Power Play Foundation Review
A List Of My Everyday Makeup Essentials
YSL Mini Liquid Lipstick which was a limited edition set and I reviewed in a separate post that you can read here. I keep these just in case I need to reapply any lipstick during the day. Or on days where I start off with wearing only lip gloss but for some reason changed my mind and wear lipstick.
MAC Cosmetics In Extreme Dimension Lash. This one is a life saver for when I need to touch up my lashes during the day after sweating profusely. Its totally worth getting the full sized mascara.
Evologie Stay Clear CREAM. As soon as I notice pimples on my face I always grab my Evologie Stay Clear Cream to take care of it quickly.
Origins Original Skin Retexturizing Mask with Rose Clay. If you love clay masks you are going to love this one by Origins.
Mario Badescu Vitamin C Serum. Who doesn't love serum? Pictured is the travel size but so worth getting the bigger size.
Garnier Skinactive Micellar Cleansing Water. It's a 2-in-1 product for giving my face a total refresh on no-makeup days and I use it for removing my makeup. Made for all skin types.
Estee Lauder Advanced Night Repair Eye Cream. They said its supposed to help with getting rid of under eye circles and puffiness so I guess it works.
Kiehl's Since 1851 Ultra Facial Cream. On days when I need to give my face some extra moisture I use Kiehl's Ultra Facial Cream.
Anti Aging Rose Quartz Roller for face, eye and neck. There are so many benefits of using a jade roller and are too extensive to list here. But you definitely need one if you don't already use one. I'm all for any useful tools and face products that are anti-aging.
Lancome Visionnaire Pro Retinol Correcting Night Concentrate. In case you missed it, I reviewed the Lancome Visionnarie product line in this post here.
La Roche-Posay Lipikar Balm AP+ Body Cream for Extra Dry Skin. Whenever I experience bad dry skin irritations, I use this product.
Pin for later:
Which products are your everyday makeup essentials?
---
MY TRAVEL AND EVERYDAY MAKEUP 
Having a Travel Makeup Bag makes life so much easier that you don't have to worry about switching bags back and forth. Naturally I am a very organised person and when it comes to my Travel Bag there are no exceptions. Most times when planning a trip, I overdo the packing and have to refer to my own tips on how to pack light hassle free. Once I do this, I skim through the luggage(s) a few times removing any necessary items. Being over-weight is not a good thing so I always aim to leave room in my luggage.
BEAUTY PRODUCTS
With regards to beauty products and make-up essentials, I keep it simple. Usually, I do not need to add anything extra to whats already on my checklist. However, in some instances I may add or subtract depending on where I am going and the length of stay. For example a travel size sunblock if I'll be on the beach or lounging by a pool most of the time.
Related: An Outline Of The Best Drugstore Makeup All Under $20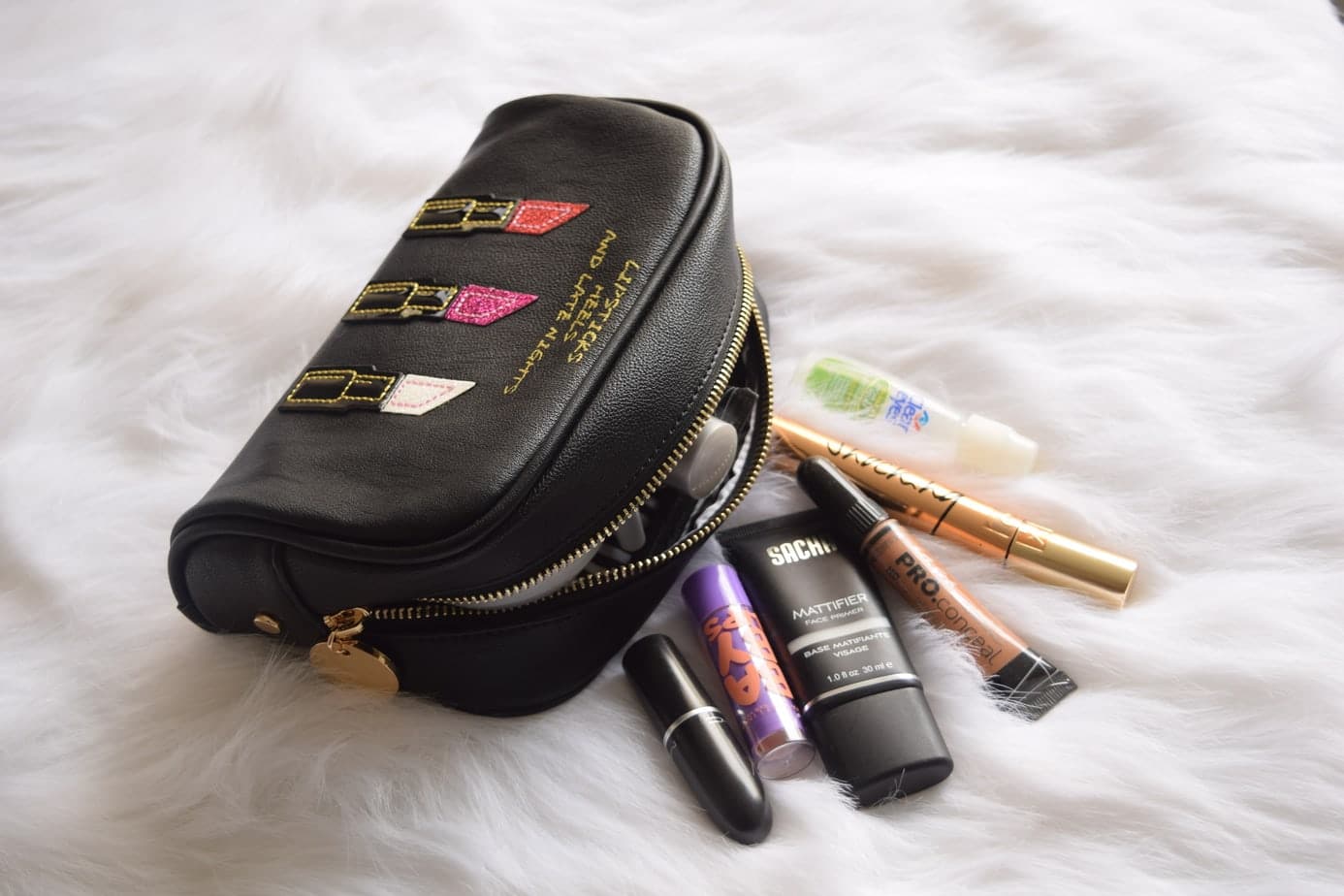 MY TRAVEL AND EVERYDAY MAKEUP ESSENTIALS
"Lipsticks, Heels and Late nights" are printed on the front with three lipsticks embroidered below, which I find very fitting for its purpose. There is a lot of room including 3 slots on the interior for the insertion of bank cards. Also, it is lined with fabric on the inside and although it appears to be stuffed, more things can fit. A lot of the items I am about to list have been spoken about in my "everyday beauty favourites" post.
Related: THE BEST SKINCARE DUPES FOR THE MOST POPULAR PRODUCTS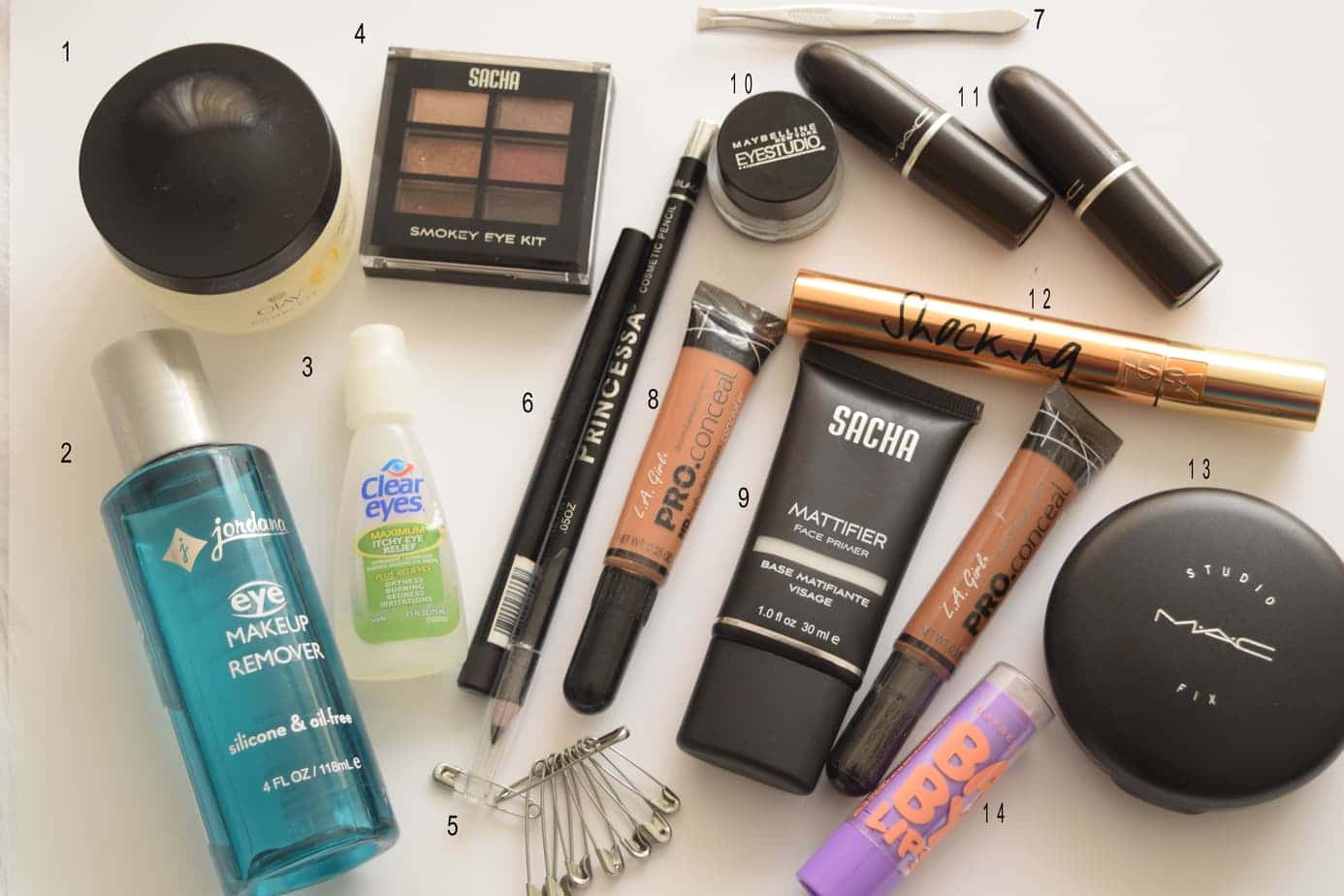 MY TRAVEL MAKEUP BAG ESSENTIALS:
Olay Complete Face Moisturizer. I apply this over my face before putting on face primer.
Jordana Eye Makeup Remover. Works really well. Only a couple drops needed on a cotton ball.
Clear Eyes Itchy Eye Relief. Sometimes my allergies choose the wrong time to act up so having this on me at all times is a must.
Smokey Eye Kit by SACHA Cosmetics. Contains 6 colours ideal for the perfect natural or smokey eye look. Safe colours to mix and match with almost any outfit.
Safety pins. In the event that my clothes get torn and I don't have access to needle and thread.
Brow pencil liner (brown) for filling of my brows and black eye liner for lining my water-line.
Tweezer. To control the annoying facial hair that pops up out of nowhere.
La Girl Pro Conceal. The lighter shade for defining below my eye brows and to highlight below my eyes. Darker shade is used for contouring and defining above my brows.
SACHA Cosmetics Mattifier. My go-to face-primer. My face tends to be on the oily side so this helps even off my foundation and powder.
Waterproof Creme Liner by Maybelline in blackest black. One of the best creme liners I have ever used. It takes a day or two to totally come off my eyes if I don't use remover.
MAC Lipsticks. In the colour "twig" which is a pinkish natural and either one of my favourite red lipsticks: "Russian red" or "Ruby woo". If I am not sure what outfits I would be wearing then I take 2 lipsticks to be safe.
YSL Shocking Mascara. When I want to achieve a fake-lashes look I apply 2-3 times. But if I want a neutral finish then only once.
Studio Fix Foundation Powder by MAC. Everyday I use this on my face whether I am going to work or out. Especially on days that I don't want to wear heavy makeup.
Maybelline Lip Balm. Restores moisture on my lips when they become chappy. Or for those days when I don't feel like being extra pretty.
Makeup brushes (2-3 at most) – 1 for foundation and powder, 1 for brows and 1 for applying eyeshadow
Blender Sponge
0