Last Updated on July 17, 2020 by Shevy
My Every Day Beauty Care Products With Freeman
My every day beauty care routine became a lot easier since using Freeman's products. When it comes to beauty products I am a bit of a junkie so on occasions I like testing new products. Late last year while shopping at the beauty section of the grocery store I came upon Freeman's products. At the time I was in search of some facial cleansers and face masks and it was the first time I had seen the Brand.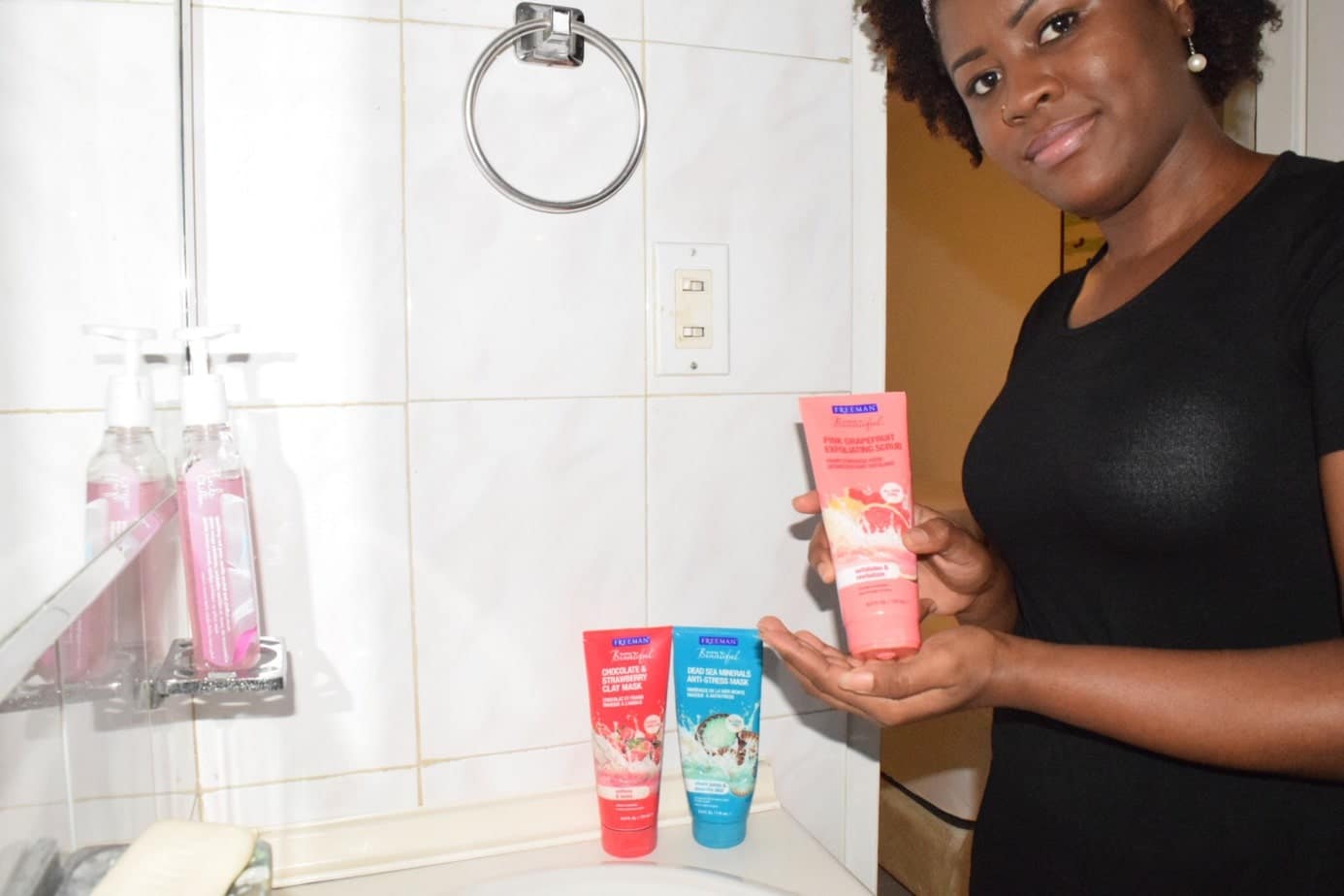 Please be advised that affiliate links are contained in this post.
Dead Sea Minerals Anti-Stress
There were at least 5 different products to choose from, not including the Bare Foot pedicure treatments. The first product I ended up getting was the Dead Sea Minerals Anti-Stress Mask. It is labelled as being suitable for all skin types and promises to clear pores and smooth skin. Its packaging is a 6.0 full ounce tube and could lasts well over 6 months depending on usage. Recommended use is at least twice a week or as needed. All you need to do is apply enough product to the entire face and neck area then rinse with warm water.
What I like about using this product is that it does exactly what is says; leaves skin looking flawless and smooth. Also, it aids with stress relief and doesn't contain any parabens in the ingredients.
Chocolate & Strawberry Clay Mask
As time went by I decided to purchase another face mask. But this time, the chocolate and strawberry one which softens and tones the skin. Perfect for normal to combination skin types and as it says, tantalizes your taste buds. Two of my favourite things are strawberries and chocolate so I am starting to think that this is no coincidence. One of best parts about using this one is that it smells so edible! My skin is left feeling moisturized, smoother and softer.
Up next on my wish-list is their peel off mask and the avocado oatmeal day mask. They retail for around $3-$4 each (tubes) and also in smaller packs.
Pink Grapefruit Exfoliating Scrub
Last but not least, the Pink Grapefruit Exfoliating Scrub exfoliates and revitalizes skin, sloughs off dead skin cells and is suitable for all skin types. Not my favourite product as I have found that the exfoliating beads disappear into my skin so I tend to put more. Don't expect this product to foam a lot (and this is a wonderful thing!). Cleansers that are super high in pH tend to be more foamy and because of this, strips the skin of natural oils. Lower pH products are great for acne prone women like myself. However, don't take my word for it. Please research your skin type and product ingredients to better understand your skin needs. Pink Grapefruit Scrub leaves my skin feeling smooth and dirt free without stripping the moisture from my face.
Oh and all of these products that I have tried so far from this Brand have an irresistible edible fruity fragrance lol.
Have you used products from this Brand before?
Disclaimer: All views contained herein are my own. This is not a paid or sponsored post.
Shop the post:
Save
Save
Save
Save
0