Last Updated on September 14, 2020 by Shevy
My First Blog Photo Shoot
I had my very first blog photo shoot and decided to wear an embroidery shirt with black jeans. I started blogging in early November 2016 and I am still trying to figure out what my niche should be.
Travelling and taking photographs then sharing them on social media is what inspired me to start my own Blog. My obsession with anything fashion-related and being a makeup addict also attributed to this.
Related: A GUIDE TO THE BEST KNOCK OFF BIRKENSTOCKS
Trying to fit under a particular niche makes it harder when you have so many things you would like to share with your readers. Not every single aspect of my life can be shared here and I understand that. Yet, I still want people to get to know the real me.
I earn a small commission if you purchase through any of my links at no extra cost to you. Read full disclosure here.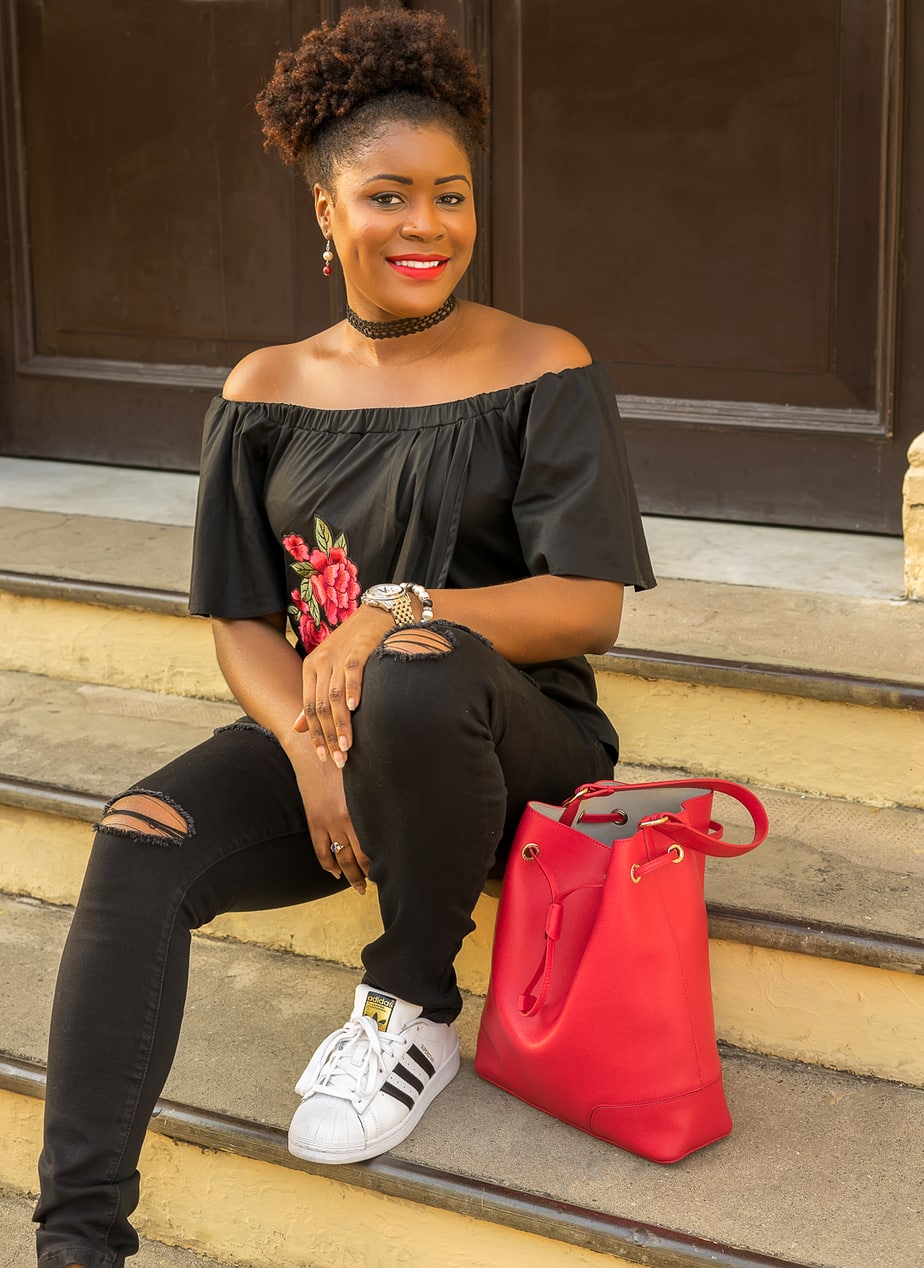 Some people say to be a successful Blogger you must have a niche and stick to it but I just want to be a Blogger without complications.
Related: EMBROIDERY AND STRIPES: ALL ABOUT MY LATEST OBSESSION
What Inspired the Shoot: Embroidery Shirt
Over the past month I had been reviewing my blog goals and thinking about different ways of improving it.
Last week I had the opportunity and pleasure of meeting Bruno a French Photographer living in Panama City. Thursday was going to be a day off for me so we agreed to shoot on that day. Bruno's area of focus is in landscape photography however, in an effort to build his portfolio he is currently experimenting with portraits.
You can take a look at the beautiful work he has done on his website.
On the day of the shoot, approximately 2 hours prior to sunset we began looking around for the best areas. Our main focus was to capitalise on lighting and backgrounds before it grew dark.
To ensure we had enough great shots to choose from we took well over 20 photographs.
End Result
Although this was our first time working together on a project, Bruno made me feel very comfortable behind the camera. Furthermore, I am contended with the end results.
Related: THE MOST BEAUTIFUL LOUNGEWEAR FOR WOMEN YOU NEED TO HAVE
Embroidery Shirt Outfit Inspiration
Spring is in full swing now and if you are thinking about floral prints it may be a good time to stock up on some pieces. The off-the-shoulder trend has been in style for quite a while and isn't going out of style anytime soon. I really like the versatility of this top as it can be worn with skinny jeans, shorts or a skirt.
Outfit Details
Choker Forever 21 (similar)
Jeans Forever 21
Embroidery Shirt Forever 21 (similar)
Sneakers: Adidas
Bucket Bag: FURLA
Hope you enjoyed this post. If you would like to see more posts like this let me know in the comments down below.
Don't forget to follow me on my social media: Instagram, Twitter and Facebook.
Save
Save
Save
Save
Save
Save
Save
Save
Save
Save
Save
Save
Save
Save
Save
Save
Save
Save
Save
Save
Save
Save
Save
Save
Save
0