Last Updated on May 12, 2021 by Shevy
The best affordable Cartier inspired bracelets that you can buy for yourself or give as gifts to your family, friends, loved ones, and colleagues. It doesn't matter the occasion these Cartier lookalikes are perfect for birthdays, holidays, and anniversaries!
I earn a small commission if you purchase through any of my links at no extra cost to you. Read full disclosure here.
Related: THE BEST KENDRA SCOTT LOOK ALIKE NECKLACE FOR CHEAP
Not only are these Cartier look alike bracelets super affordable but also beautifully designed, chic, and makes your wrist look expensive. This makes it very hard to tell whether they are authentic or not. But at the same time gives you the luxury feel, similar to what you could experience with a real one.
Shop Cartier Inspired Bracelets
Why Are Cartier Bracelets So Popular?
Apart from its unique and luxurious design, it became a symbol of commitment, similar to a diamond engagement ring.
Related: THE ULTIMATE VALENTINES DAY GIFT GUIDE FOR HER
They were called the "modern love handcuffs' because of the way they are secured using a screwdriver.
Which Cartier Bracelet Is Most Popular?
The Cartier Love Bracelet is one of the most iconic pieces of jewelry ever designed and by far the most popular one.
Related: THE BEST GIFTS FOR HER UNDER 50
Its simple design inspired by screw heads and its romantic backstory will appeal to those who have a penchant for charming, clean-cut pieces.
Check out these 10 amazing facts you may not have known about the Cartier Love bracelet.
Cartier Bracelet Price
There is nothing as a cheap Cartier bracelet. The least expensive Cartier Love Bracelet cost a whopping US$4,250. While the most expensive bracelet (overloaded with diamonds) costs a steep US$59,000.
That is a lot of money to spend on jewelry for some people, but you can definitely get yourself a Cartier look alike bracelet or a few Cartier inspired bracelets without breaking the bank.
Cartier Bracelets Amazon
How To Put On Your Cartier Inspired Bracelets On Your Own
If you decide to get yourself some Cartier inspired bracelets or the real thing, and you're not sure how to screw them on yourself. The video below shows a simple way you can do it yourself.
Related: LAST MINUTE CHRISTMAS GIFT IDEAS FOR HER
Shop Cartier Inspired Love Ring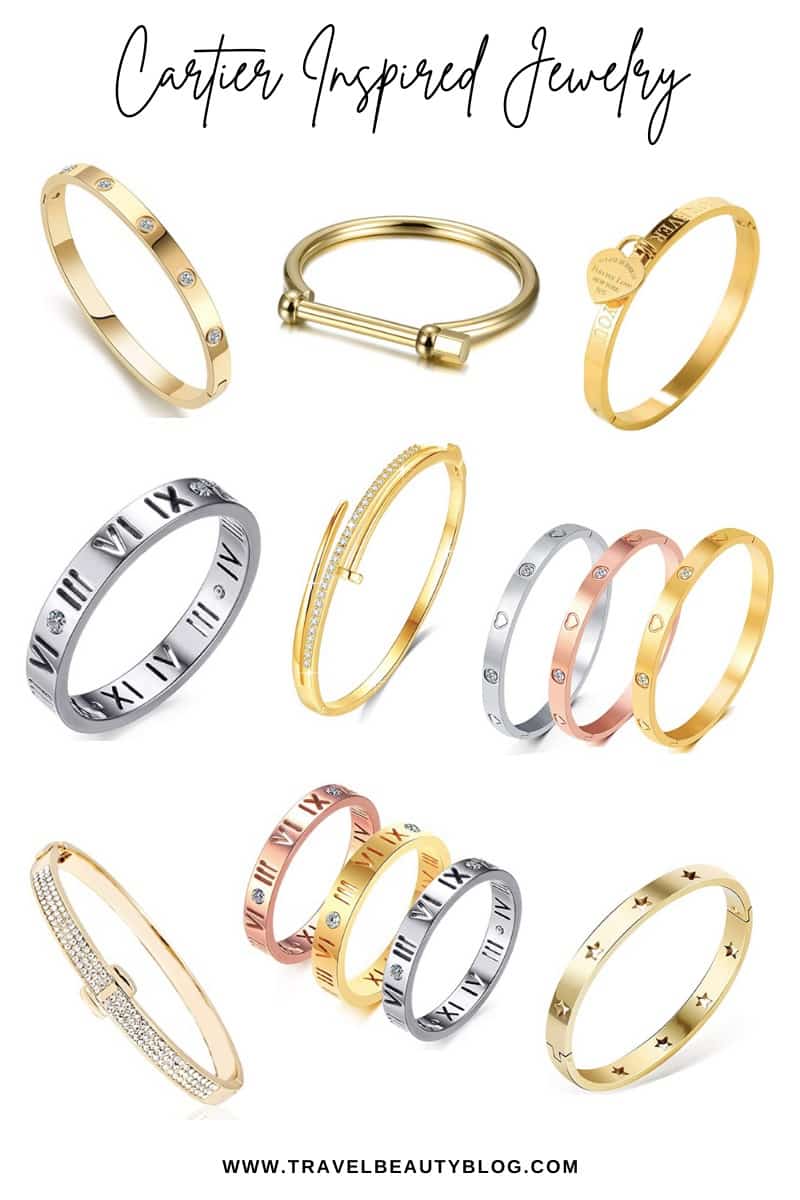 Conclusion
If you're on a budget and are in search of the perfect gift for a jewelry lover, look no further than a silver or gold Cartier love bracelet. Make her feel extra special by gifting her with some of the most beautiful Cartier inspired bracelets or rings.
It doesn't matter the occasion, as they make the perfect finishing touch for any ensemble!
0