Last Updated on September 14, 2020 by Shevy
How To Build An Everyday Basic Capsule Wardrobe
Dressing comfortable doesn't have to be boring. This week I opted for a simpler but stylish outfit because I wanted to share some casual looks. Casual is my signature style and these items that I have picked out are what I would wear on an everyday basis outside of work.
So lets take a look at my recommendations for dressing comfortable and stylish at the same time. The key to creating your own everyday basic capsule wardrobe.
Related: How To Build A Summer Capsule Wardrobe
I earn a small commission if you purchase through any of my links at no extra cost to you. Read full disclosure here.
How To Build An Everyday Basic Capsule Wardrobe
Sneakers
First item on the list is sneakers and not just any old sneakers but precisely a white pair. Owning a pair of all white sneakers is an absolute must regardless of how you plan on using them. They are stylish, comfortable, and versatile to match with every casual wear.
Cardigan
Cardigans are great for layering with for example your arm-less work blouses. There are so many ways in which you can wear them such as: with a  belt, as a pop of colour, over a shirt, buttoned up or open for a flattering look. A cardigan is one of those staples every woman has in their wardrobe.
Related: HOW TO STYLE LEATHER LEGGINGS IN 5 EASY WAYS
Jeans – Basic Capsule Wardrobe
Until they are out of style, a pair of skinny jeans is a must-have. Actually, having a couple pairs in various styles and colours is even better. Jeans go well with everything and that is what makes them easy to wear. Jeans are versatile to style and comfortable to wear when going out.
Denim Jacket
Another item that can be worn with literally anything is a denim jacket. If you own a good fitting jeans jacket you'll have it for years. Similarly to a jeans pants, they add a casual vibe to any outfit and they can also be dressed up. Take your outfit up to the next level by layering with a jean jacket and it will look so much cuter.
Solid Black Dress
Having a solid black dress can give you multiple looks, so having one is recommended. Black dresses can be dressed down or up depending on the style you want to achieve. Choose one that can be transformed from a day to a night look. Ensure that it is not fitted, its comfortable, and falls just on the knee to make it suitable for every occasion.
Related: HOW TO LOOK CHIC WEARING ALL WHITE
White Button-up Shirt
One white shirt can give you so many looks. Depending on if you are going for a casual or semi-formal look, it can be worn with a skirt, jeans or trousers.
Related: CLASSY AND AFFORDABLE NEW YEARS EVE OUTFITS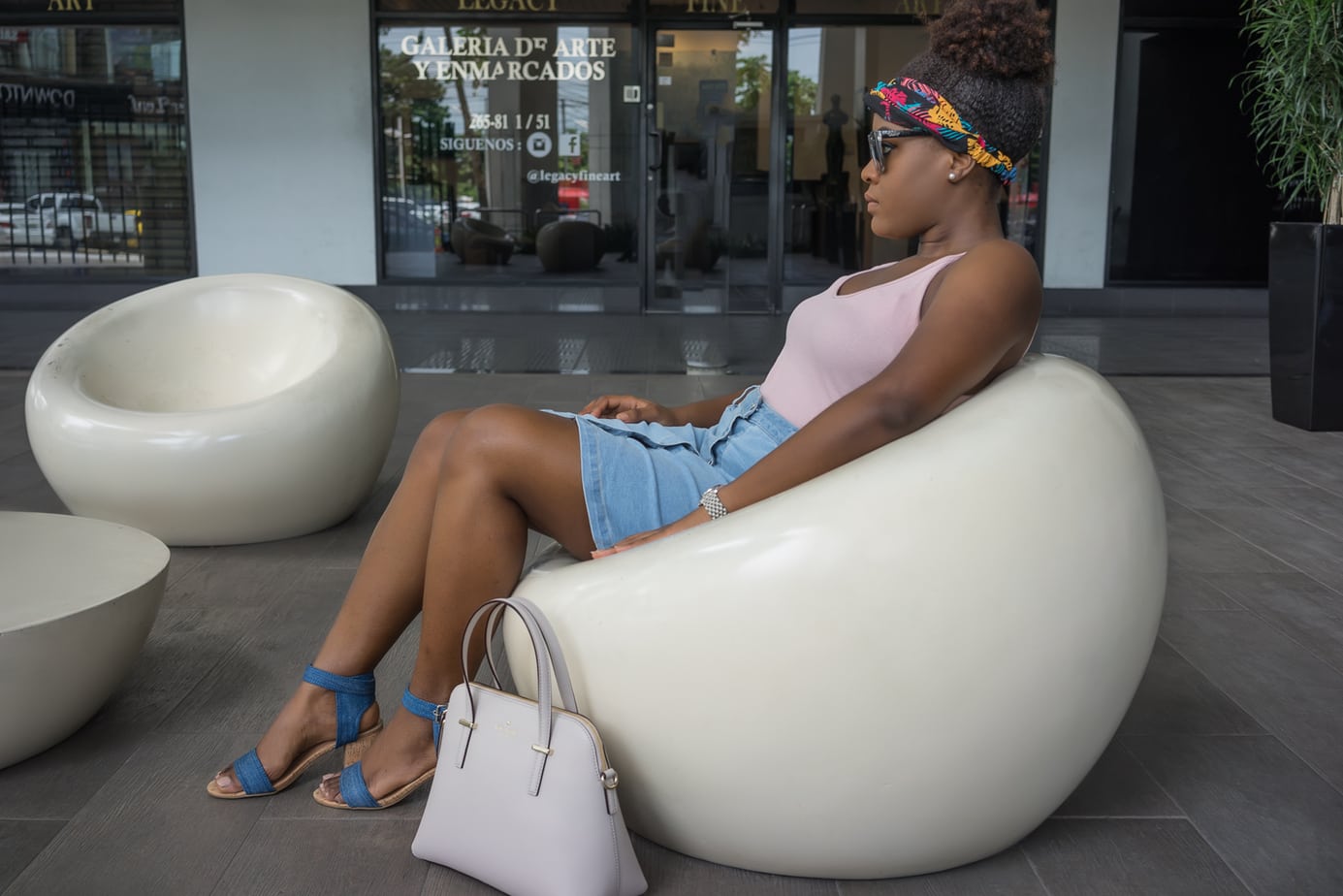 Headband / Hair Accessories
Not a must but owning the right headband can make such a big difference. For instance, this one that I am wearing is from Stradivarius and although my outfit is very simple, adding the headband took it up a notch.
Ballet Flats
If sneakers are not your cup of tea then ballet flats are the perfect alternative. Giving your outfit a super casual finish but also a stylish twist. Ballet flats matches with almost anything and they are comfortable which is the main reward for wearing them.
Related: THE BEST MOST AFFORDABLE STATEMENT SLEEVE SWEATERS
Leather handbag
Have your ever noticed the difference a handbag makes? With a basic outfit, all you need is a cute stylish bag and it makes all the difference. I highly suggest purchasing one that can be used with different outfits.
Everything I suggested here is similar to building an everyday capsule wardrobe and that is also something that I am currently working on.
Once I have all my pieces together I'll be sharing it with you guys. Hope you enjoyed this post and let me know in the comments down below what is your signature style.
Related: THE BEST SPRING FASHION YOU CAN WEAR RIGHT NOW
My Outfit details:
Top: Forever 21
Skirt: Forever21
Headband: Stradivarius
Sunglasses: Quay Australia
Bag: Kate Spade
Shoes: Local Store
Save
Save
Save
1